Puerto Vallarta, Mexico - What better place to enjoy Vallarta Restaurant Week than at Tu Casa en Vallarta? La Zona Romantica's award-winning favorite Mexican Contemporary restaurant, No Way José! is offering a scrumptious three course menu for just $299 pesos, and donating a portion of the proceeds to Cheryl's Shoebox.
Cheryl's Shoebox is an organization with the 'sole' focus of collecting and distributing shoes to the children, families and individuals in need throughout Puerto Vallarta and the surrounding communities.
Come enjoy Restaurant Week 2015 at No Way José! You'll enjoy a scrumptious meal that will exceed your expectations - and make it possible for some Banderas Bay area children to have new shoes for the coming school year - all for just $299 pesos.
No Way José! Restaurant Week Menu
Choose one dish per course
Appetizers & Salads:
• Watermelon Salad - With arugula, watercress, spinach, salty cheese, fennel vinaigrette
• Gazpacho Shrimp Shooter - Ginger raicilla Gazpacho with shrimp
• Sikil p'ak - Pumpkin seed, tomato and chili habanero dip
Main Courses:
• Pre-Hispanic-style Beef - With guajillo chili, steamed in agave leaf
• Mahi-Mahi Fillet - Grilled in hoja santa leaf, on bed of garlic purée
• Cornish Game Hen - Bathed in pasilla chile
Desserts:
• Pistachio Custard
• Zacatecas Fritter - Bathed in agave honey, with caramelized apples & caramel ice cream
• Jalisco's Pride Sorbet - With serrano chili, raicilla and lime
Saving money at one of Puerto Vallarta's favorite restaurants is sufficient, but to find the high quality of food, service and ambiance that No Way José! offers, while supporting a worthy cause makes it even more valuable for those hoping for a lasting memory - and an unforgettable dining experience.
Click HERE to learn more about Cheryl's Shoebox and how you can donate to this organization that has been providing shoes for local children in need since 2011.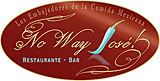 No Way José! is on the south side of downtown at 5 de Febrero 260, just over the Vallarta street bridge on your left heading south from the Malecón. Open daily from 4 pm to 11:00 pm, closed Mondays in April and May. Reservations are recommended and available by calling (322) 223-2853 or online at NoWayJoseMx.com. For more information, visit NoWayJoseMx.com, or join us on Facebook for real-time updates and special offers.

Click HERE to learn more about No Way José!