Puerto Vallarta, Mexico - Like some of the celebrities whom have visited the Pacific port of Puerto Vallarta, most recently Gwyneth Paltrow, Chris Martin, LeAnn Rimes and Selena Gomez, the destination has continued its annual awards season celebration with a number of accolades from consumers, media and travel experts in the United Stated and Canada.
With sales to the destination continuing high, American Express placed it as the number 3 most popular destination for this summer season. Earlier this month, Puerto Vallarta was also placed in the Top 2 'Best Honeymoon Destination' at the
Bay Area Reporter Besties
2015 reader poll.
Tripadvisor's consumer base of more than 2 million monthly users have once again voted Puerto Vallarta onto their Traveler's Choice Award list. This year, the city came in at #2 for the 'Overall Best Mexican Destination,' and Playa Los Muertos was named one of the 'Top 10 Beaches in Mexico.' Rivera del Rio Hotel came in at #4 for 'Best B&B,' and six of the Travelers' Top 10 'Favorite Fine Dining Restaurants' are in Puerto Vallarta – Café de Artistes, Vista Grill, Ocean Grill, Bistro Teresita, Le Kliff and Trio. The Traveler's Choice Awards are of great significance because each destination must earn the award as a result of maintaining at least a 4-star average score from consumers in both their hotels and restaurants over the course of 12 months.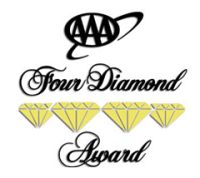 With a variety of places to fit any budget, the destination's lodging options include leading hotel chains, all-inclusive resorts, haciendas, boutique hotels and much more. AAA has renewed the Four Diamond Award rating for the Barcelo Puerto Vallarta (2008), CasaMagna Marriott Puerto Vallarta Resort & Spa (1991), Casa Velas Hotel Boutique (2003), Fiesta Americana Puerto Vallarta (2001), Hilton Puerto Vallarta Resort (2013), Now Amber (2013), Secrets Vallarta Bay (2013), Sunset Plaza Beach Resort & Spa (2011), Villa Premiere Hotel & Spa (2006) and the Westin Resort and Spa, which has held the distinction for over 22 years in a row. For over 79 years AAA has used professional inspectors to conduct in-person property inspections. AAA offers the only rating system using comprehensive, on-site professional hotel and restaurant evaluations guided by member priorities.
Puerto Vallarta is one of the most acclaimed destinations in Mexico and continually receives accolades from the media as well.
US News & World Report selected Puerto Vallarta in Jan 2015 as the "#2 Best Place to Visit in Mexico, #5 Best Beaches in Mexico, and #4 Best Spring Break Destination." The destination was named Mexico's #4 under the "Top Cities in Mexico and Central and South America" category in Travel + Leisure's World's Best Awards in 2013. Puerto Vallarta's CasaMagna Marriott Puerto Vallarta Resort & Spa was rated #8 in the Top 10 Resorts in the Pacific Riviera as chosen by readers of the prestigious magazine, Condé Nast Traveler.
Puerto Vallarta earned all of these recognitions by consistently offering exceptional tourism services. As one of Mexico's most attractive destinations, the Banderas Bay region's steady growth has been accompanied by improved services, an extensive expansion of its infrastructure, and an increasing number of cultural activities to better serve both the growing number of travelers who visit Puerto Vallarta every year, and the city's ever-growing population.
Many congratulations to the people of Puerto Vallarta and its tourism industry that keep our visitors coming back for more!
Original article