Puerto Vallarta, Mexico - There's more to Mexican food than tacos and tequila. It is one of the most versatile and varied cuisines in the world and the cultural aspect of Mexican cuisine takes on a personality of its own. It is all part of the dining experience.
Mexican cuisine has a history of incorporating fresh fruits and vegetables with local wild game. Over the centuries, traditional Mexican cuisine was subject to the influence of other nations. While ingredients and cooking methods have changed over time, the traditions of Mexican cooking have proven resilient, reflecting outside influences yet retaining distinct cultural characteristics.
Si Señor Beach Restaurant offers authentic Mexican cuisine that is exciting and flavorful. Executive Chef Victor Manuel Castaneda Romero experiments with a variety of Mexican dishes that will bring you closer to the history of Mexican cuisine and allow you to enjoy all the qualities of this great culture.
The Summer Menu at the restaurant offers a variety of different dishes, two food courses and one beverage for only $259 pesos. There are choices for each course and select one from each. You can enjoy this meal from noon to 11 pm and this particular menu runs July 15 to August 15, 2015.
Si Señor Beach Restaurant Summer Menu
Starters
• Shrimp Empanadas
• Seafood Ceviche Griego made with fish, shrimp, octopus, tomato, jicama and cucumber
Entrées
• Shrimp Enchiladas with Guajillo Chile Sauce
• Fish Filet with Hawaiian Sauce, with Pineapple, Ginger and Arbol Chile
Beverages
• 1 Beer
• 1 Mango or Tamarind Margarita
Although Si Señor Beach provides fine Mexican, contemporary cuisine, their atmosphere is relaxed with beach and inside dining. It is right on Los Muertos Beach and open everyday from 9 am to 11 pm. Join them a for memorable dining experience.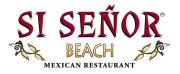 Open daily from 9:00 am to 11:00 pm, Si Señor Mexican Restaurant is located on Los Muertos Beach at Amapas 114, in front of the Hotel Emperador on the South side of Puerto Vallarta. For reservations, call (322) 222-0577, send an email to
SiSenorBeach(at)gmail.com,
or visit
SiSenorBeach.com
.
Click HERE to learn more about Si Señor Beach Restaurant.