Puerto Vallarta, Mexico - Hasta la prox, summer. Hola, Season 7! The kids are going back to school and we can barely believe we are gearing up to serve our family of friends for another season at Tu Casa en Vallarta - No Way José! As always, your favorite things about Tu Casa en Vallarta are returning and we have new surprises for you.
We hope you had a great summer and are making your travels plans to come see us. We're waiting for you with open arms in Tu Casa en Vallarta!
To help us kick-start the season, we opened the downstairs bar - La Cantina - with full bar service from 12:00 noon to 11:00 pm. As usual, we will be closed Mondays until December when we resume serving you 7 nights a week.
Mixed Drinks. Highballs. Cocktails. Whichever term you prefer, we are serving them up in NWJ! style. Come in and ask for a Mula Mexicana, our take on the Moscow Mule. This refreshing concoction of raicilla, ginger beer, Corona beer and lime juice served in a commemorative boot will have you singing Mexican Rancheras in no time.
Prefer gin? Try the Hoyo en Uno (Hole in One) made with gin, OJ, lime juice and green mint.
Tequila more your style? Ask for the 'Vallarta Sky' made with tequila, curacao & cream.
Rum is your favorite? Try the Celos, made with white cacao, espresso and rum.
Don't drink anything but vodka? The only place you can get a Moscow Mule in La Zona Romantica made in the requisite copper mug is at No Way José!
La Cantina's capacity of 40 perfectly suits for your next card game, association meeting or shopping-stop to cool off during a summer afternoon in La Zona Romantica.
We've got the A/C blasting. We've got a complimentary unbelievably delicious traditional Mexican taquiza with your beverage purchase. Every day from 12:00 noon to 4:00 pm the botanas are on us, or come between 7:00-9:00 pm for our 2x1 Happy Hour with a bar bites menu and José Alfredo standing at the ready to welcome you back home!
We look forward to seeing you soon!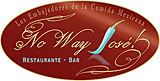 No Way José! is located on the south side of downtown at 5 de Febrero 260, just over the Vallarta street bridge on your left heading south from the Malecón. For more information, visit NoWayJoseMx.com, or join us on Facebook for real-time updates and special offers.

Click HERE to learn more about No Way José!