Puerto Vallarta, Mexico - The cuisine of Mexico is as diverse as the country itself. Many areas are very popular for their specific foods. Like the state of Nayarit, which has it own unique flavor combinations and draws from its diverse geographic location for wonderful taste combinations.
The state's proximity to the Pacific ocean and the state's rich soil have provided Nayarit with a bevy of food choices. Crops include coconuts, corn, wheat, beans, 14 varieties of bananas, and mangos. From the sea comes red snapper, sea bass, mahi mahi, shrimp and oysters. It's ocean to table everyday.
Many dishes are simply prepared with the fresh, local ingredients and taste divine.
Celebrate the cuisine of Mexico all summer at Si Señor Beach Restaurant. You will receive three courses for $249 pesos and there are choices for each course. The Flavors of Nayarit will be featured August 15 through September 15, 2015. Executive Chef Victor Manuel Castaneda Romero has put together a unique and diverse set of recipes, where seafood is the star.
Si Señor Beach Restaurant's Flavors of Nayarit Menu
Appetizers
• Fish Ceviche, Sentispac Style
• Shrimp Sope, Santiago Ixcuintla Style
• Fish Chicharron (kinda like nuggets) Santa Maria del Oro Style
Entrées
• Fish Filet Sarandeado
• Chicken a la Plaza of Ixtlan
• Pork Enchiladas with Guajillo Chile Sauce
Desserts
• Coffee Flan
• Sweet Corn Pie
• Banana Bread Pudding
Si Señor Beach offers beach dining, with several seating options, along with the more formal, covered dining room. This special menu is offered from 1 to 10 pm daily. It is a great way to sample dishes from Nayarit, which is part of Banderas Bay. Enjoy the awesome flavors.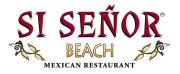 Open daily from 9:00 am to 11:00 pm, Si Señor Mexican Restaurant is located on Los Muertos Beach at Amapas 114, in front of the Hotel Emperador on the South side of Puerto Vallarta. For reservations, call (322) 222-0577, send an email to
SiSenorBeach(at)gmail.com,
or visit
SiSenorBeach.com
.
Click HERE to learn more about Si Señor Beach Restaurant.