Puerto Vallarta, Mexico - Every year in September, cities throughout the Republic host patriotic activities and entertainment to celebrate one of the most important holidays of the year – La Independencia de México!
This year marks the 205th anniversary of Mexico's Independence, which means this September is an even more exciting time to visit Puerto Vallarta. Come live the experience of this most patriotic and festive of all Mexican holidays at No Way José!
On Tuesday, September 15th from 12:00 noon to 12:00 midnight, you can enjoy specials all day at Tu Casa en Vallarta, as No Way José! ramps up the El Grito de la Independencia celebrations by bringing you a traditional Mexican Kermés (carnival) in La Cantina.
In addition to the festive atmosphere, you'll enjoy:
• 12:00 noon to 4:00 pm - complimentary botanas with any cocktail purchase
• $50 peso Hot Chile Love Margaritas all day
• 8:00 pm to 12:00 midnight - OPEN BAR. $350 pesos Open National Bar and Draft Beer - Unlimited Taco Bar - Live Entertainment - all you can eat and drink!
Click HERE to visit the No Way José! events page and purchase your all-access bracelet for the Open Bar that will have you singing Viva Mexico! into the Vallarta night sky. When you purchase your bracelet online, it will be waiting for you in La Cantina.
Come and help us celebrate La Independencia de México!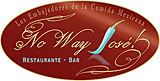 No Way José! is located on the south side of downtown at 5 de Febrero 260, just over the Vallarta street bridge on your left heading south from the Malecón. For more information, visit NoWayJoseMx.com, or join us on Facebook for real-time updates and special offers.

Click HERE to learn more about No Way José!