Puerto Vallarta, Mexico - In April, Taste Restaurant at Casa Cupula proudly announced the appointment of Chef Agustin Garcia as their new Executive Chef.
Chef Garcia had recently returned to his native Puerto Vallarta after a six year stint in the Los Angeles area, where he managed four restaurants including the Vintage Cafe in Whittier California. In LA, he developed a love for flavorful organic food, with an emphasis on low fat and high protein choices.
He studied at the College of International Gastronomy in Guadalajara, Mexico. In the Banderas Bay area, Chef Garcia has worked at the Hotel Westin Regina, Cafe des Artistes and the Hotel Mayan Palace among others.
His passion is to utilize unexpected flavor combinations creating a unique explosion of Taste on the palate. With a fusion of cuisines served at Taste including Mexican, Asian and Mediterranean, he has reinvented many of the restaurantís signature dishes including Short Ribs: with a sauce including ten chiles and a red wine chapoutie reduction. Accompanied by roasted organic vegetables in a light vincotto sauce and perfumed sweet potatoes with truffle oil, the dish is representative of his creations and the new direction at Taste.
Other new dishes include a Tropical Ceviche, Fried Wontons with goat cheese and shrimp, a Tuna Medallion in a creamy ginger sauce, selected Rolls of Chicken stuff with chorizo and goat cheese with a chipotle pepper sauce. Dessert menu additions include a delicious Pistachio Flan and an incredible Hibiscus cupcake.
On Wednesday, October 14, Executive Chef Agustin Garcia presented Taste's new 'Menu de Autor.' Infusing flavors from his patrimonial Mexican cuisine, with organic and healthy ingredients he came to love during his six years in Los Angeles, the Menu de Autor highlights the three cuisines of Taste: Mexican, Mediterranean and Asian.
The motto of Taste is "Creative Food in Good Taste," and never has this been better demonstrated than by Garcia's new creations, which marry unique flavors with familiar ones to carve out a creative experience.
---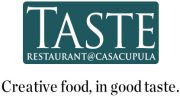 Open Wednesday through Saturday from 8:30 am to 5:00 pm for Breakfast and Lunch, and from 6 to 11 pm for Dinner, and on Sundays from 10 am to 3 pm, Taste at Casa Cupula is located at Callejon de la Igualdad #129 on the southern shores of Puerto Vallarta, Mexico. For more information, visit Taste.com.mx. For reservations, click HERE, call (322) 223-2484 ext. 151 or email taste(at)casacupula.com.

Click HERE to learn more about Taste.