Puerto Vallarta, Jalisco, Mexico - JosÚ Alfredo welcomes our friends and family back to No Way JosÚ! for what will be our best season ever! As many of you know our beloved founder, Julie, has left our day to day operations in order pursue new adventures. As our founder, she is still in constant contact and you, for sure, will see her from time to time checking in or having a bite.
JosÚ Alfredo has taken over the full operation from dawn 'till dusk. As most of you know, JosÚ has been co-operator with Julie since the beginning and he is very excited to continue the spectacular food, service, and atmosphere you have come to know and love. Mainly, he is so happy to be with our family from near and far, and looks forward to seeing all of you at the best of the best restaurants in Vallarta, No Way JosÚ!
Here is just a "taste" of the many exciting events, dishes, music and fun Tu Casa en Vallarta has in store for you this year:
Alberto Mejia Returns!
Remember the beautiful voice of Alberto and his interpretation of the most romantic songs of Mexico? Alberto Mejia makes his return to No Way JosÚ! to serenade and entertain on Thursday, November 26th at 8:00 pm. Come join us as Tu Casa en Vallarta welcomes back one of your favorites! Click HERE to book your reservations today!
Introducing the new Me˝u de Festival el Sabor Mexicano!
Come in and try our new Me˝u de Festival el Sabor Mexicano, a three course dinner with wine for $399 pesos. Introducing our latest chef's creation: Pechuga de Pato, breast of duck drizzled with fig sauce. Don't miss this incredible limited time menu at No Way JosÚ! - reserve your table today!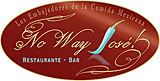 No Way JosÚ! is on the south side of downtown at 5 de Febrero 260, just over the Vallarta street bridge on your left heading south from the Malecˇn. Open daily from 4 pm to 11:00 pm, closed Mondays in April and May. Reservations are recommended and available by calling (322) 223-2853 or online at NoWayJoseMx.com. For more information, visit NoWayJoseMx.com, or join us on Facebook for real-time updates and special offers.

Click HERE to learn more about No Way JosÚ!