Puerto Vallarta, Mexico - Taste Restaurant @ Casa Cupula is teaming up with Act II Entertainment to provide Creative Food in Good Taste at their shows.
Executive Chef Agustine Garcia has created a unique menu with a sampling of dishes available at Taste Restaurant – or a "Taste of Taste" if you will. These will be available on show evenings starting November 4 at Act II.
Small plates cost only $75 pesos, or showgoers can buy a sample of three Tastes for only $200 pesos and make a light meal. Diners will enjoy a variety of dishes meant to be eaten either before a show or when seated.
Here's a glimpse of what Taste will be serving at Act II:
• Paella Cupula - Saffron rice with chicken, shrimp, fish, scallop, chorizo and mussels sautéed with echalote and white wine.
• Select Chicken - Chicken breast stuffed with chorizo and goat cheese. With hibiscus rice and chipotle pepper sauce.
• Sope Cochinita Pibil - Slow-roasted pork in a rich tomato based sauce with xnipec, cream avocado salsa on a sope.
• Wontons - Three fried wontons stuffed with vegetables, spinach and goat cheese, accompanied with soy sauce.
• Calamari Tostones - Fried calamari rings with a mango sauce and chile de árbol dressing.
• Chicken Ciabatta Sandwich - Grilled chicken breast, jalapeños, chipotle sauce, lettuce, tomato, red onion and melted Jack on a ciabatta roll.
• Mediterranean Snack Plate - Selection of fine Italian style meats and gourmet cheeses, homemade cranberry nut bread and olives.
Diners will also receive a coupon for a free drink with meal when they decide to try the full dishes at Taste Restaurant @ Casa Cupula.
For more information, visit CasaCupula.com.
---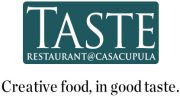 Open Wednesday through Saturday from 8:30 am to 5:00 pm for Breakfast and Lunch, and from 6 to 11 pm for Dinner, and on Sundays from 10 am to 3 pm, Taste at Casa Cupula is located at Callejon de la Igualdad #129 on the southern shores of Puerto Vallarta, Mexico. For more information, visit Taste.com.mx. For reservations, click HERE, call (322) 223-2484 ext. 151 or email taste(at)casacupula.com.

Click HERE to learn more about Taste.