Puerto Vallarta, Mexico - There's no better place to celebrate the holidays in Puerto Vallarta than at Tu Casa en Vallarta, No Way José! José Alfredo and his staff invite you to be part of the family during this festive time of year, so they'll be serving up some holiday cheer in warm and tasty No Way José! style.
On Christmas Eve and Christmas Day, No Way Jose! will also be serving up all of it's signature dishes, plus a special chef's menu and live music, so you can stay out of the kitchen and in a festive mood for only $477 Pesos per person.
Christmas Eve and Christmas Day Menu:
Sopa / Soup
Sopa Crema de Espinacas / Cream of Spinach Soup: Deliciosa crema de Espinacas servidas con un croton de queso tradicional oaxaca / Delicious cream of Spinach soup served with a traditional Oaxaca cheese crouton
Ensalada / Salad
Ensalada de Nopales, Jicama y Camaron / Cactus, Jicama and Shrimp Salad
Nopal parrillado y camarones al vapor sobre una cama jicama y paja de tortilla en una vinagreta de oregano / Grilled cactus and shrimp over jicama and tortilla strips in an oregano vinaigrette
Platos Principales / Main Course
Filete de Dorado Provenzal / Grilled Mahi Mahi Provincial: Filete de dorado provenzal servido en una cama de espinacas con tocino y verduras mixtas salteadas al ajo, cebolla y almendra al mezcal / Grilled Mahi Mahi Provincial served on a bed of spinach with bacon and mixed vegetable, garlic, onions and almonds in mezcal.
Postre / Dessert
Pay de limon servido con salsa mango / Homemade Key Lime Pie with mango sauce
And to keep you in the holiday spirit...
Copa de vino Rojo o Blanco / A Glass of red or white wine
Then, on December 31st, Tu Casa en Vallarta will be hosting a special event celebrating New Year's Eve. A special four-course dinner with a glass of champagne and live entertainment for just $975 Pesos per person.
New Year's Eve Fiesta Menu:
Sopa, tu elección / Soup, your choice of:
• Crema de Calabaza con Queso del Tuito y Camaron / Cream of zucchini soup with shrimp and queso del Tuito
• Sopa Campesina: Rica sopa de caldo de pollo con verduras juliannas / Chicken consommé with julienned vegetables
Ensalada / Salad
Ensalada Julie: Lechuga sangria, manzana verde, apio, aceitunas verdes, nueces y aderezo secreto de la casa / Red lettuce, green apple, celery, green olives, nuts, topped with our secret dressing
Plato Principale / Main Course
tu elección / your choice of:
• Mar y Tierra - Surf and Turf: Filete mignon y camaron gigante servido con pure de calabaza y zanahoria, verduras mixtas y una salsa de mostaza dijon / Filet Mignon with Jumbo Shrimp served with zucchini and carrot pureé mixed vegetables & dijon mustard sauce
• Filete de Dorado Envuelto en Hoja Santa / Mahi Mahi wrapped in Hoja Santa: Filete dorado rellenos de mariscos y envuelto en hoja santa, servido con una croqueta de mariscos con ensalada de espinacas y molito amarillo / Mahi Mahi fillet stuffed with shrimp and wrapped in hoja santa served with a skewer of shrimp and spinach salad
• Pechuga de Pollo Poblana / Poblano Chicken Breast: Pechuga de pollo relleña de espinacas, panela, nopal y poblano servido en una salsa de morron rojo / Chicken Breast stuffed with spinach, panela, cactus and poblano pepper served with a red pepper sauce
• Camarones Zapata / Shrimp Zapata: Camarones rellenos de queso amarillo envuelto en tocino, bañados en una salsa de mango servido con verduras mixtas / Jumbo Shrimp stuffed with cheese & wrapped in bacon, with mango salsa, sautéed vegetables
• Chiles en Nogada (Carne o Camaron) / Beef or Shrimp Chiles en Nogada: 2 chiles poblanos rellenos de carne molida o camarón y fruta secas, bañados en su salsa nogada decorados con granada / 2 Poblano Peppers stuffed with ground beef or shrimp and mixed sweet fruits bathed in a creamy almond and pecan sauce, garnished with pomegranate
• Torre Chapultepec (vegetariano) / Vegetarian Torre Chapultepec: Hongos portobello al grill apiladas con berenjena, pimientos mixtas, calabacita, plátano macho y tomate al olivo gratinados en una salsa de frutas rojos / Grilled portobello mushrooms stacked with eggplant, mixed peppers, zucchini, banana and tomato with olive oil in a red fruit sauce
Postre tu elección / Dessert your choice of:
• Pie de limon servido con salsa mango / Home made key lime pie with mango sauce
• Extasis de Chocolate - Chocolate Ecstasy: Un toque sensual de chocolate como nunca ha probado / A sensual chocolate experience like you've never had before
• Flan / Traditional Caramel Custard
Copa de Champagne - Glass of Champagne
Seating is limited for these events, so click HERE to book your table today!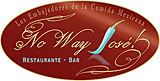 No Way José! is on the south side of downtown at 5 de Febrero 260, just over the Vallarta street bridge on your left heading south from the Malecón. Open daily from 3 pm to 11:00 pm, reservations are recommended and available by calling (322) 223-2853 or by emailing Reservations(at)NoWayJoseMx.com. For more information, visit NoWayJoseMx.com, or join us on Facebook for real-time updates and special offers.

Click HERE to learn more about No Way José!