Puerto Vallarta, Mexico - Christmas is a time for family and friends and if you are in Puerto Vallarta, it may not be an American traditional dinner, but you can still have a wonderful meal and spend quality time with those you care about.
Executive Chef Victor Manuel Castaneda Romero at Si Señor Beach Restaurant adds his creative style to every plate and the special Christmas menu is no exception.
Christmas dinner is served December 24 and 25, 2015 from 5 to 10 pm. The cost is $550 pesos per person and the price does not include the tip.
• Green Apple and Pineapple Salad with Walnuts and a Tangerine Vinaigrette
• Cream of Asparagus Soup with smoked bacon with parmesan and herbs crouton
• Beef Medallions with Pink Pepper Sauce and Caramelized Brussels Sprouts
• Black Forest Mousse
The regular menu is also available. Reservations are highly recommended, and can be made by calling (322) 222-0577.
Find a spot on the beach or in the sand-free covered dining room, and enjoy the Christmas Cheer - and an incredible meal - at Si Señor Restaurant, right on Los Muertos Beach.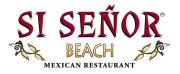 Open daily from 9:00 am to 11:00 pm, Si Señor Mexican Restaurant is located on Los Muertos Beach at Amapas 114, in front of the Hotel Emperador on the South side of Puerto Vallarta. For reservations, call (322) 222-0577, send an email to
SiSenorBeach(at)gmail.com,
or visit
SiSenorBeach.com
.
Click HERE to learn more about Si Señor Beach Restaurant.