Puerto Vallarta, Mexico - The crash of the waves, a spectacular ocean location and a wonderful, friendly ambiance are the perfect surroundings for a Christmas celebration in Puerto Vallarta, Mexico. What an ideal time to get your friends and family together and head to a great restaurant.
Executive Chef Jorge Abraham Gonzalez at The Blue Shrimp Restaurant has created an excellent menu for the holiday. This special four course meal will be offered on December 24 and 25, 2015 from 6 to 11 pm, and costs just $790 pesos per person. Here's a look at the special Christmas menu.
Christmas Dinner at The Blue Shrimp Restaurant
• Cream of Pumpkin Soup
• Salad Bar
• Fish Filet encrusted with Basil and Nuts - or - BBQ Ribs and Extra Jumbo Blue Shrimp
• Pumpkin Pie
• 1 Glass of Wine
You may also order off of the regular a la carte menu. Making reservations to secure your table is a good idea, so call 223-1840 to make yours TODAY!
Gather your friends and family for a memorable evening on Los Muertos Beach in the heart of Puerto Vallarta's Zona Romantica for a 'Shrimply Delicious' Christmas dinner at The Blue Shrimp Restaurant.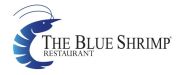 Open for breakfast, lunch, dinner or snacks and cocktails from 9 am until 11:30 pm, The Blue Shrimp is situated on Los Muertos Beach at Olas Altas 366 on the South side of Puerto Vallarta. For more information or reservations, call (322) 222-4246, email TheBlueShrimp12@hotmail.com or visit TheBlueShrimp.com.

Click HERE to learn more about The Blue Shrimp