Puerto Vallarta, Mexico - Meet physicians, ask questions, learn about local labs and diagnostic centers, hospitals – any and every thing to do with your health and well-being - during the 6th Annual Puerto Vallarta Medical Matters Conference at the Marriott CasaMagna Resort on February 15, 2016, from 9 am to 5 pm.
HealthCare Resources Puerto Vallarta, The US Consular Agency and the Hotel Marriott are proud to be hosting some very distinguished physicians as featured speakers at this year's Medical Matters Conference, including:
Dra. Fabiola Gallegos - Born in San Luis Potoso, Dra. Fabiola Gallegos is a physical therapy rehab specialist. She did her social service in two small towns near Zacatecas, Salinas and Escalerillas. She chose her particular specialty because she very much wanted to treat children and adults with disabilities. She is married – with a baby on the way (April 2016)! She has a wide variety of hobbies and interests including theater (she used to be an actress!), soccer, reading, animals, movies and video games. She says that "Doctors save lives. Therapists make this life worthwhile!" Dra. Gallegos will be speaking on Current Techniques in Rehabilitation – From Prolotherapy to Deep Oscillation at 1:15 pm on February 15, 2016 in Salon VI-VIII.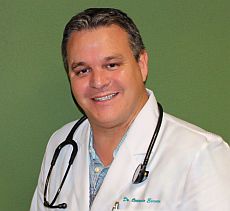 Dr. Hector Escoto
Dr. Hector Escoto
- Born in San Juan de Lagos, a small town near Guadalajara, Dr. Hector Escoto attended school at the University of Guadalajara and performed his specialty in Cardithoracic and Vascular surgery at Hospital Civil in Guadalajara. He says that he choose Cardithoracic surgery because he always found the vascular and chest the most interesting. He is single and moved to Puerto Vallarta in 2005. His main focus is to always make sure that he provides the very best medical attention to his patients and keeping updated in the newest medical treatments and surgical procedures. He says "There is nothing more satisfying than seeing a happy face on a patient when they have recovered their health." Dr. Escoto will be speaking on "Peripheral Artery Disease" at Medical Matters at 9:30 am in Salon Vallarta VI-VIII.
Dr. Adrian Octavio Lomeli
was born and raised in Puerto Vallarta. He attended dental school at the University of Guadalajara, CIERO Institute in Mexico City and the MELZ Institute in Cuernavaca. He did his social service in Puerto Vallarta in the Centro de Salud. He has his Master's Degree in Dentistry. He often has small groups of dentist come to Puerto Vallarta from all points around the world, to study with him, learning his methods of dental implants. When asked what he enjoys best about his practice, he says "The joy obtained after being able to help patients with long-term issues including pain, TMJ dysfunction, to restore the mouth function through implants and crowns and to bring a beautiful smile to our patients is what I love about my job." Dr. Lomeli enjoys horses, martial arts, music and his ranch. Dr. Lomeli will be speaking on "Oral Rehabilitation with Dental Implants" at 9:30 am in Salon Mexico-Cozumel at Medical Matters.
Note: We suggest that you visit each speaker at their exhibit to ask questions and obtain further information, not at the talk. This is so we can continue to run on time.
No pre-registration or reservations are required for the talks, just look for the Medical Matters Volunteers, who will direct you to the various salons.
For a detailed description on more speakers and their topics, keep checking this page on BanderasNews.com. As the date draws nearer, we'll be publishing complete bios on all of the speakers and further details on their talks.