Puerto Vallarta, Jalisco, Mexico - There's always so much going on in Puerto Vallarta and around the Republic, it can be difficult to keep up with it all. Here's a look at some of this week's Mexico and Puerto Vallarta news headlines plus a couple of events taking place in PV around Banderas Bay this weekend that you won't want to miss.
Vallarta Botanical Garden's 2nd Annual Beer Festival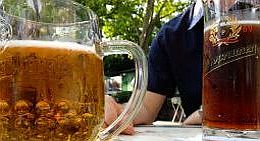 On Saturday, March 19th from 1:00 to 5:00 pm, the Vallarta Botanical Gardens (VBG) will once again host its own version of an event that has become wildly popular in our Sister City of Santa Barbara: the annual Beer Garden, where craft microbrews are paired with special places within the garden. At this adults-only event, Los Muertos Brewing Company and other local microbrewers will set up stations throughout the Gardens, where participants can learn more about both the microbrews and the Gardens. Live gypsy jazz music by MORUNO will entertain festival-goers from 1:00 to 3:00 pm. VBG is touting the event as a FUNdraiser, as proceeds will help support the Garden's various educational programs. Tickets, priced at $350 pesos, include garden entry and 6 different beer samplings, and are available at the Vallarta Botanical Gardens and at Los Muertos Brewing Company, Lazaro Cardenas #302 on Puerto Vallarta's South side. Tickets for non-drinkers are available for $100 pesos.
Mexico City Bans 1m Cars in Air Pollution Alert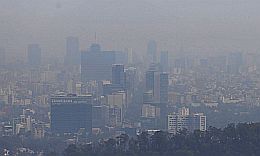 Authorities have banned more than 1 million cars from the roads and offered free subway and bus rides to coax people from their vehicles as Mexico City's first air pollution alert in 11 years stretched into a fourth day on Thursday. Officials advised people on Wednesday to limit outdoor activity owing to high ozone levels that were nearly double acceptable limits in the sprawling capital, which lies in a high-altitude valley ringed by smog-trapping volcanic mountains. Amid a muddy brown haze, some residents covered their mouths with scarves or paper masks. Some schools kept pupils indoors during break time. The mayor, Miguel Ángel Mancera, told Televisa news that about 1.1m cars in the Valley of Mexico, including nearly 450,000 in the capital, were ordered off the streets under the restrictions. Environmental Secretary Alejandro Pacchiano said if conditions don't improve, other measures would be considered, such as suspending industrial activity at factories.
Nonstop Flight From Poland To Riviera Nayarit Confirmed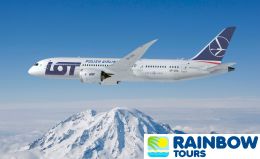 Polish Tour Operator Rainbow Tours recently contacted the Riviera Nayarit Convention and Visitors Bureau to confirm the creation of a nonstop flight from Warsaw, Poland to the Vallarta-Nayarit International Airport for the upcoming Winter Season 2016-2017. The inaugural flight is planned for Monday, November 7, 2016. Each flight will have 252 seats aboard a Boeing 787 Dreamliner with Business, Comfort and Economy classes. The frequency is scheduled for every two weeks, meaning the tourists will remain in the region for 14 days. The Tour Operator officially confirmed the charter flight as a done deal on Tuesday, March 15, 2016. Rainbow Tours will be renting the planes from LOT Polish Airlines for five months (from November through March), while the destinations agreed to invest in a marketing campaign within the Polish market to promote the flight. "Poland's economy is the second largest in Central Europe," said Marc Murphy, Managing Director of the Riviera Nayarit CVB. "This charter used to go to Cancun every year, but demand has decreased over the past few years, which is why we suggested bringing it to our destinations."
First Jalisco 'En Corto' Short Film Contest
The Radio and Television System of Jalisco (SJRTV) invites film makers born in the country or foreigners living in Jalisco to take part in the First 'En Corto' Short Film Contest for a chance to win more than $100,000 pesos in prizes. All submissions must be in MOV digital format, fit into the contest's Fiction or Animation film categories, and be no longer than 4 minutes in length, including credits. The films must be created between January 1 and April 30, 2016, and submitted via the
C7Jalisco website
between March 7th and April 30, 2016. All participants must sign a release form, giving SJRTV the right to show the films without notice or compensation. Six finalists, the three best films in each category, will be preselected and shown in an 'En Corto' special on channel C7 Jalisco. The program is scheduled to air in the middle of May, which is when the professional panel of judges will decide the winners. The two winning short films will be published on the C7 Jalisco website. For more information (in Spanish) visit
c7jalisco.com.
Weekend Events in Puerto Vallarta and Around Banderas Bay
Click on titles for more information
• South Side Shuffle Offers Fun and Friendly Shopping
• 2016 Performance of Circo de los Niños de San Pancho
• Puerto Vallarta Gay Men's Chorus Benefit Concert
• Last Chance to See 'The Dueling Drag Divas' in the Red Room