Puerto Vallarta, Mexico - Rev up your appetite for the culinary extravaganza, Vallarta Restaurant Week 2016, which is really a two week event that runs from May 15 to 31. Some of Puerto Vallarta's best eating establishments are participating this year, including Archie's Wok.
Archie's Wok serves a range of fresh, Pan-Asian dishes made to order and with an array of house made sauces. The cuisine exudes exquisite flavors.
The mouth watering menu for Restaurant Week includes three courses for $229 pesos and there are choices for each course. This menu is served from 2 to 11 pm. Complement your meal with a choice from the great collection of wines, beers and cocktails. Archie's Wok combines the best of Asian fusion cuisine with first class service in a serene environment.
Here's the Restaurant Week Menu:
Appetizers
• Thai Seafood Cocktail with shrimp, calamari, jicama, and strawberries, lightly flavored with aromatic Asian herbs
• Spice of Life Salad, crunchy mixed vegetables & peanuts in a spicy Chinese dressing
• Tropical Gazpacho with mango, cucumber, jicama and yogurt raita
Main Dishes
• Tempura Fish and Vegetables or Tempura Tofu and Vegetables
• Shrimp Pasta. Cellophane vermicelli with shrimp, snow peas, shitake mushrooms & fresh basil tossed with an earthy chile guajillo paste
• Hawaiian K'au Gingery Lime Chicken Thighs in brochette with spicy fresh Thai greens
Desserts
• Citrus Cloud: sunny and limey below, light and cakey above
• Classic Thai Sweet Rice with Coconut Milk and Mango
• Snow White Margarita blended with fresh coconut and ginger, brown sugar rim along with tequila or a virgin version
• Gelato of the day, locally handcrafted
Stop by and let your palate travel to heaven. The exotic Pan-Asian flavors and vibrant presentation of Southeast Asian cuisine is showcased by Archie's Wok signature dishes and their Restaurant Week selections.
Let the elevated flavors take you to a serene place.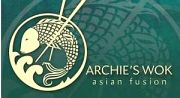 Archie's Wok is located on Puerto Vallarta's South Side at Francisca Rodriguez #130. You know the street, the one that meets Los Muertos Pier. No reservations needed. For more information, call (322) 222-0411 or send an email to Info@ArchiesWok.com.
Click HERE to learn more about Archie's Wok.