Puerto Vallarta, Mexico - Award-winning Puerto Vallarta favorite, No Way José! Restaurant/Bar, invites you to celebrate closing another amazing season as Tu Casa en Vallarta on Sunday, May 29 for their last dinner service of the season from 4-11 pm.
Come say "hasta la proxima" to one of the most charming service teams in La Zona Romantica as they put the seal on this season of serving up great food and great drink to the family of friends that make it easy to deliver on the promise: you will leave happy and come back!
Enjoy air conditioned comfort in a casual bar setting in the downstairs Cantina or the romantic NWJ! Terrace under the Vallarta sky as you enjoy a creative Restaurant Week Menu of dishes not found on the regular menu.
From the Mexican Gazpacho starter to the Seared Fresh Tuna entree and finishing up with the Bueñuelos for dessert, No Way José! continues to provide creative, original and delicious Mexican contemporary cuisine for one of the most complete dining experiences in Puerto Vallarta.
2016 Vallarta Restaurant Week Menu at No Way José!
APPETIZERS & SALADS
• Watermelon and Mixed Greens Salad - served with fried gouda cheese and basil-peppermint vinaigrette
• Mexican Gazpacho - garnished with avocado and pork rind croutons
• Tuna Carpaccio - marinated in chili guajillo vinaigrette
MAIN COURSES
• Seared Fresh Tuna - with a delicate radish vinaigrette and hibiscus sauce served with lettuce, spinach and watercress garnish and decorated with fried strips of sweet potato and leek
• Grilled Pork Chop - served with sauteed vegetable, mashed potatoes and a hibiscus and red wine sauce
• Red Snapper Filet - on a bed of chile poblano-mussels-white wine sauce served with sauteed spinach and zucchini
DESSERTS
• Fritters - with brown sugar and cinnamon ice cream
• Chocolate Ecstasy - with red berry sauce
• Mexican Custard - with rosemary and garnished with a serrano chile cookie
These dishes are not found on the regular menu and will be available only through Sunday, May 29 when we turn off the lights for our Summer Vacation. Stop by and get a hug and give a hug to celebrate another wonderful year of food, friends and fun at No Way José!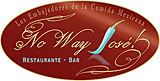 No Way José! is located on the south side of downtown at 5 de Febrero 260, just over the Vallarta street bridge on your left heading south from the Malecón. Open daily from 4 pm to 11:00 pm during the season. Reservations are recommended and available by calling (322) 223-2853. For more information, visit NoWayJoseMx.com, or follow them on Facebook for real-time updates and special offers.

Click HERE to learn more about No Way José!