Puerto Vallarta, Mexico - Since opening the Gardens gates in 2005, Vallarta Botanical Gardens has won international accolades as a not-to-be missed highlight of any trip to Puerto Vallarta. In addition to the 20 acres of native tropical plants and flowering trees, there are many upcoming events you won't want to miss!
Orchids for Your Home Garden - Jump in on Our Order!
The VBG is putting together an orchid order from a major Mexican orchid wholesaler for some of the same species that the
BBC traveled here to film.
Not only do these orchids provide a captivating spectacle with their exquisite flowers, but the bees that they attract provide for dramatic interactions that allow for hours of enthralled observation. Since some of these orchids are now threatened in the wild, your home garden or patio collection can provide local orchid bees with the right fragrances so they can attract their mates and reproduce. Gardening with native plants is a win-win for people and our environment! If you're interested in joining us for the order, please send an email to T.J. Hartung at
development(at)vbgardens.org.
Order Deadline: August 31, 2016.
Make Birding History in Puerto Vallarta and Banderas Bay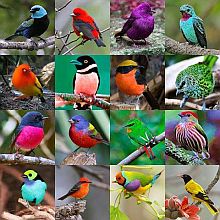 The Vallarta Botanical Garden is just one of dozens of amazing local birding hotspots within the count circle of the annual Puerto Vallarta / Bahía de Banderas Christmas Bird Count (CBC). This project, organized by the Audubon Society, is the longest running and most important citizen science project in the world. Now is not to early to schedule your participation for the 2016 Christmas Bird Count scheduled for December 17th. Just beforehand, on December 10th, the VBG will hold their Crash Course on Birding in Tropical Western Mexico for participants to prepare for their adventures in scouting and observations the following week. Over 200 species have been counted within the Puerto Vallarta CBC in past events, but over 100 additional species are documented to occur at this time within our region. That means participants are so far only documenting about two thirds of the avian diversity that abounds during the day of the count. Additional prepared participants and a better coordination of efforts could result in placing Puerto Vallarta as a top contender for the number one CBC circle in North America. These efforts will not only boost the ecotourism appeal of Puerto Vallarta, but also serve to better document and protect our rich natural biodiversity. Interested? Please write to
birdingadventures(at)mac.com,
or
educadorambiental(at)vbgardens.org
for more information.
Design of an International Peace Garden
The grounds of the Vallarta Botanical Garden are already a place of calm, solace, and healing of body, mind, and soul. The recently completed chapel,
Nuestra Señora del Jardín
(Our Lady of the Garden) has added a new element of spirituality to the garden experience. A new design by Architects Nick DeLorenzo and Cesar Amezcua will complement the approach to the chapel with space of incredible beauty and purposeful function. It will feature plants of the Mediterranean and the Holy Land along with Mexican wildflowers. A combination of shade and sun provide an inviting usable space throughout the year for activities from educational programming and family enjoyment to quiet meditation. The tiered benches may allow the space to later be used as theater seating for open-air concerts and performances. It will be a welcoming place for people of all backgrounds to come together in harmony with nature and focus on our collective power to make this world a better place. Please contact garden management today to become part of the development of the new International Peace Garden at the Vallarta Botanical Garden! Please write to
info(at)vbgardens.org.
Call to Artists — Exhibit with Us!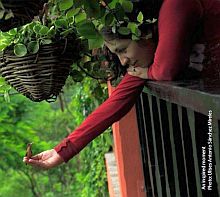 Plaza Galerías, our region's largest shopping mall, has invited the Vallarta Botanical Garden to organize another nature-based art exhibition, this time with the specific theme of "Birds and Their Habitats." The exhibit is scheduled to be featured in the mall's main events hall (in front of the Liverpool Department Store) from September 17th to October 13, 2016. Afterwards, the exhibit will travel to the University of Guadalajara's local coastal campus until mid-November and finally to the Vallarta Botanical Garden until the end of December. This exhibition will especially focus on native and endemic birds and the fascinating flora of the habitats that support them. We hope to inspire a conservation-oriented public through engaging imaginations with stunning and creative human constructs interpreting our natural world. Local and visiting artists are encouraged to submit pieces for consideration in this exhibition which will be selected by a committee of representatives from the Garden, the Mall, and the University. Pieces may include paintings, photos, and sculptures. For more information on the exhibition or how to send submissions, please write to
eventos(at)vbgardens.org.
The deadline for submissions is September 1, 2016.
The Gardens are Open Year-Round
The Vallarta Botanical Gardens remain open year-round even during the months of August and September when many local attractions close for the season. This is just one part of our commitment to building our beloved Puerto Vallarta region as Mexico's premier tourism destination! (Closed on Mondays from April until December)

The Vallarta Botanical Garden, located 24 kilometers south of Old Town Puerto Vallarta, is the Banderas Bay region's most popular living museum. A constant presence in TripAdvisor's Top Ten "Things To Do in Puerto Vallarta," it is also on the Top Ten list of "North American Gardens Worth Travelling For" by the North American Garden Tourism Conference. Visitors may explore inspirationally landscaped grounds, fascinating botanical collections, impressive plant conservatories, and adventurous trails through the forest preserve. For more information please visit vbgardens.org or email Alejandra Flores at ale(at)vbgardens.org.

Click HERE to learn more about the Vallarta Botanical Garden.