Puerto Vallarta, Mexico - Act II Stages is gearing up for the best season of entertainment that Puerto Vallarta has ever seen! Presenting high-quality theater productions, internationally-known cabaret acts, special concerts and a slew of other entertaining events, the 2016-17 season will offer literally something for everyone.
October Entertainment at Act II Stages:
Bob's Karaoke Party Still Going Strong
Every Wednesday at 8:00 pm
Join us in Encore Bar every Wednesday through November 2, when another season of the summer's biggest weekly party ends with a HUGE Closing Night / Day of the Dead / Danny's Birthday Party! The fun starts with the 2 x 1 drink special from 6-8 pm. Encore Lounge fills up at 8:00 pm, when expats, locals and visitors gather together to drink, dance, sing and have tons of fun! Don't miss your chance to sing a song, have some laughs, and hear some local talent in the air-conditioned comfort of Encore Lounge. Join PVGMC and ACT II Artistic Director Alfonso Lopez, co-host Marsha Ward Ross, and DJ San-Tec for a night of fun every Wednesday night. If you don't want to sing, that's okay, just come and watch your friends sing a song as you cheer them on.
Final Voice Of Vallarta Auditions
October 15th & 16th at 3:00 pm
Final Voice of Vallarta audition dates are coming up this weekend! Act II is "over-the-moon" about all of the talented singers that have already auditioned this year for Season 4 of the 18-week Voice of Vallarta singing competition. They are looking forward to many more auditions this weekend! The winner of this year's competition will receive $20,000 pesos, as well as an opportunity to professionally record a single at the PV recording studio, ProSantana! Plus, he/she will win lots of other fabulous prizes! If you are a singer who's itching to be on stage, please come to the audition and bring music tracks for two memorized songs on a USB at 3:00 pm this Saturday or Sunday.
Divas De Rancho
October 15 at 9:30 pm
The incredibly funny show, Divas de Rancho, featuring the incredible La Doņa, La Verito, Miss Bibi and Fersho, returns to Act II Stages on Saturday, October 15 at 9:30 pm! The extremely talented cast, Juan Carlos Ramirez, Edgar Sanchez, Fernando Jara and Juan Pablo Hernandez, along with special guest star, Cindy Jazmin Odeclas, will present a satire of Mexican show business with lots of humor and a touch of irreverence! This show, presented in Spanish, will have you rolling on the floor with laughter!
The Kinsey Sicks in "Electile Dysfunction"
Oct 25 & 27, Nov 1, 3 & 7 at 7:00 pm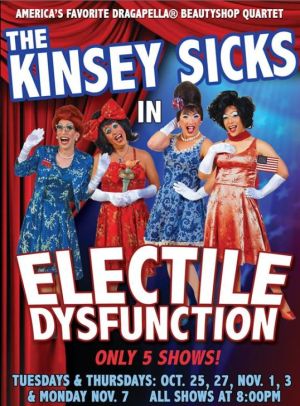 We are so thrilled to welcome back the world-acclaimed "beautyshop" quartet, The Kinsey Sicks, and their very timely original show, "Electile Dysfunction." In this hilarious show, the Kinsey Sicks (Rachel, Trampolina, Trixie and Winnie) campaign to become the first DragapellaŽ Beautyshop Quartet to be elected President of the United States on the Republican ticket. They plan to TAKE BACK AMERICA by out-pandering, out-conspiracy theorizing, and out-outlandishing our current Presidential candidates through their sharp-witted original songs and biting parodies. Are you still an undecided voter? With five shows leading right up to the election, we strongly advise that you DON'T VOTE until you have seen all sides! The Kinsey Sicks have been together for more than 20 years. They have performed around the world, presenting a cornucopia of music and comedy to all kinds of audiences... starting on a street corner in San Francisco in 1994, graduating to venues in most of the US states, Canada, Australia, Europe and Mexico! Their award-winning a cappella singing, sharp satire and over-the-top drag have earned them a diverse and devoted following!
Mark The Dates!
October 25 - Opening Night of The Kinsey Sicks - Electile Dysfunction through Nov 7th
November 02 - Day of The Dead / Closing Night of Karaoke / Danny Mininni's Birthday Party
November 03 - Opening Night of The Red Room Cabaret with Carly Ozard - 6:00 pm Party
November 04 - One Night Only - Daisy Bucket at 7:30 pm
November 09 - Opening Night for Bombshell at 9:30 pm
November 10 - Opening Night for Mama Tits, Sweet Like Candy at 9:30 pm
November 12 - Opening Night Bash for Avenue Q - Party at 6:00 pm, Show at 7:00 pm
November 13 - Opening Night: Paul Fracassi, 20th Century Crooners 7:30, Party at 6:00
November 14 - 3 Year Anniversary Bash and Opening Night of Starting Here Starting Now
November 14 - Opening Night for Blame it on Mexico - starring Brittany Kingery
November 15 - Opening Night for Sonico - starring Alfredo Mendoza
November 16 - Opening Night, Walk Like a Man - starring Paul Fracassi
November 17 - Opening Night for Canadian Recording Artist Jeffery Straker - Party at 6:30
November 18 - Opening Night for Simon and Girlfunkle - Party at 6:30 pm
November 27 - Opening Night for The Voice Of Vallarta at 8:00 pm
For a complete listing of all the incredible shows ACT II has in store for you this season, please visit Act2PV.com.
Going... Going... Opening Night Passes Almost Gone! Be Part of the 'In Crowd'
Act II has always offered a limited number of Opening Night Passes to its patrons. Once these are gone, there are no more! There are still 7 opening night passes left at a cost of $600 USD/pp. What a great deal, with a savings of over $300! The opening night pass holders are considered VIPs at Act II, and will receive a Pass Card, which gives them priority VIP seating (#1), their first drink FREE, invitations to all opening night parties, and attendance at over 30 opening night shows at no additional cost! (A couple of headliner shows are not included with this pass.) If you would like to purchase a pass, DO IT NOW, BEFORE THEY ARE GONE! Now available at Act2PV.com.
For show details, visit actiientertainment.com.

Tickets to all shows can be purchased online with no surcharge at act2pv.com, at the box office, which opens daily at 11:00 am on show days, or at the 2nd Box Office location, across the street from Garbos on Pulpito Street in the Romantic Zone.
The Act II Entertainment STAGES complex is located at Insurgentes 300 on the corner of Basilio Badillo on the South side of Puerto Vallarta. For more information, call (322) 222-1512, or follow Act II on Facebook. Click HERE to see what else is playing at Act II STAGES.