Puerto Vallarta, Mexico - Last night, The Kinsey Sicks kicked off an incredible season of entertainment at Act II Stages. They have lots more in store with the return of many Vallarta favorites, some incredible new world-class talent, the most outrageously entertaining drag shows, and award-winning musicals and stage plays. Here's a look at just some of this season's shows:
The Kinsey Sicks in "Electile Dysfunction"
Oct 27, Nov 1, 3 & 7 at 7:00 pm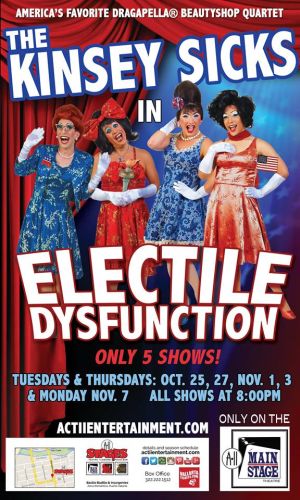 We are thrilled to welcome back the world-acclaimed "beautyshop" quartet, The Kinsey Sicks, and their very timely original show, "Electile Dysfunction." In this hilarious show, the Kinsey Sicks (Rachel, Trampolina, Trixie and Winnie) campaign to become the first DragapellaŽ Beautyshop Quartet to be elected President of the United States on the Republican ticket. They plan to TAKE BACK AMERICA by out-pandering, out-conspiracy theorizing, and out-outlandishing our current Presidential candidates through their sharp-witted original songs and biting parodies. Are you still an undecided voter? With four more shows leading right up to the election, we strongly advise that you DON'T VOTE until you have seen all sides! The Kinsey Sicks have been together for more than 20 years. They have performed around the world, presenting a cornucopia of music and comedy to all kinds of audiences... starting on a street corner in San Francisco in 1994, graduating to venues in most of the US, Canada, Australia, Europe and Mexico! Their award-winning a cappella singing, sharp satire and over-the-top drag have earned them a diverse & devoted following!
The Voice Of Vallarta Launches Season 4 with Golden Ticket Callback Show
Act II is "over-the-moon" about all of the talented singers who auditioned for Season 4 of the 18-week Voice of Vallarta singing competition. Now the judges are looking forward to the call back auditions for the singers who received the 'Golden Ticket' during the preliminaries. The public is welcome to come watch the Callback Audition Shows on October 30 and November 6 at 8:00 pm for a small fee of $50 pesos, or $150 pesos, which includes a drink. This year, the judges are VOV Producer and Director, Alfonso Lopez, (Head Judge), Kharla Barragan, owner of Alas School of Music (returning for her 4th year), and Seattle's most famous Drag Queen, Mama Tits! The weekly Voice of Vallarta competitions, which start at 7:00 pm on November 27 and run every Sunday through April 9th (*Christmas Day and New Year's Day are dark), will be hosted once again by the fabulous Juan Pablo Hernandez who turns SPANGLISH into an art form! The price for tickets for The Voice of Vallarta competition starting November 27 is $100 pesos general seating, $150 pesos for the first four rows, and $300 pesos includes 2 free drinks. A Voice of Vallarta Season Pass is now available online at www.actiientertainment.com/Season-Tickets. This discounted pass will allow you to attend all auditions, V.I.P seats in the first three rows, one cocktail per show, and seats for the big closing night.
Coming in November
Karaoke Closing Night / Day of the Dead / Danny's Birthday Party
Wednesday, November 2
Join us for a night of fun and celebration. Danny Mininni is turning 21! His birthday also happens to fall on the last night of karaoke for the season, which is also Day of the Dead! We will have a party here at Act II Stages with singing, food, drinks, and cake! Come dressed in your Dia de los Muertos costume. Maria Rose will be painting faces at the theater in traditional and modern styles. Don't miss this special night! The fun starts with the 2 x 1 drink special from 6-8 pm.
Carly Ozard in "I Just Can't Copa Cabana!"
November 3, 5, 8, 10, 12 at 7:30 pm
November 13, 15, 20, 22, 27, 29 at 9:30 pm
Opening Night Party: Thursday, November 3 at 6:30 pm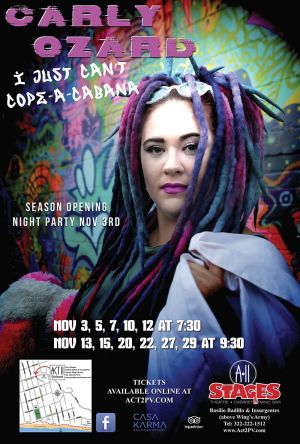 The vivacious and talented Broadway Diva, Carly Ozard, will open The Red Room for the season with an all-new show this year. Last season, Carly impressed Puerto Vallarta audiences with her powerful voice, quickly becoming a local favorite with her "Midler on the Roof" show. This year's brand-new show, "I Just Can't Copa Cabana," is inspired by songs originated by Annie Lennox, Aretha Franklin, John Lennon, Gavin DeGraw, Carole King and many more! Special guest stars from New York City and San Francisco join Carly on this voyage as she ponders how real world issues can be experienced through song. Carly has been singing in Musical Theater and Cabaret shows since 2005. She was the WINNER of The San Francisco Cabaret Competition of 2009, and has continued to create a variety of custom-designed shows including "Shift Happens" "Somebody to Love: My Musical Tribute to Freddie Mercury" and "Midler on the Roof!" Carly has performed her shows from NYC to San Francisco as a Headline powerhouse, and Act II is proud to have Carly return for the 2016-2017 season!
"Pansy" Starring Daisy Bucket
One Night Only! - November 4 at 7:30 pm
A staple of the Kansas City scene, which says something or nothing at all, Daisy Bucket (pronounced, of course, 'bouquet') brings her new one-woman show to ACT II's Red Room! How does one fall into a career of sequins and fabulousness? All is revealed in "Pansy", the stories and songs that have shaped the blonde bombshell femme mimic of the midwest! This 90-minute cabaret is a roller coaster of high-energy songs from show tunes to rock and blues - all gloriously sung live by Daisy herself, who can also be seen in disguise as Trampolina of The Kinsey Sicks! Most recently, Daisy brought the house down emceeing the Holiday Hullabaloo concert at the GALA Festival in Denver showcasing gay men's choruses nationwide and also starred as Alicia Silverstone aka Cher Horitwitz in "Cluelessness," which was recognized as one of the Best Local Plays in Kansas City this year by The Pitch. Her tireless fund raising efforts for Kansas City HIV/AIDS organizations have raised well over $100,000 USD.
"Bombshell" Starring the one and only... Tipsy Rose Lee
November 9, 12, 16, 19, 23, 26, 30 at 9:30 pm
December 3, 7, 10, 14, 17, 21, 24, 28 at 9:30 pm
Opening Night Party: Wednesday, November 9 at 8:30 pm
"Sweet Like Candy" - A Jazz & Blues tribute featuring Mama Tits
Mondays & Thursdays (through December 29) at 9:30 pm
Opening Night Party: Thursday, November 10 at 8:30 pm
Avenue Q - A 3-time Tony Award winner!
November 12, 16, 17, 19, 23, 24, 26, 30 at 7:00 pm
December 1, 3, 7, 8, 10, 14, 21, 22 at 7:00 pm
Opening Night Party: Saturday, November 12 at 6:00 pm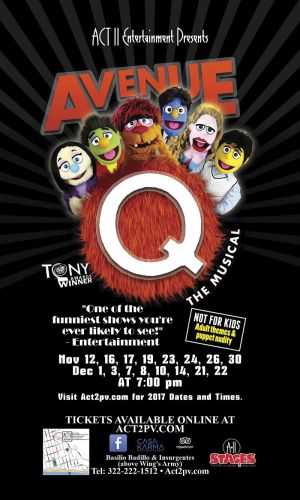 Avenue Q is a delightful, laugh-out-loud American musical that was performed on Broadway from 2003 to 2009. Audiences everywhere have been captivated by its fresh and funny story, and it won the prestigious 2004 "Triple Crown" for Tony Awards: Best Music, Best Score and Best Book! The story of Avenue Q takes place in New York City and the street is Avenue Q, the only address you can afford when you're fresh out of college, out of a job, or just trying to find your purpose in life. It is a coming-of-age parable that satirizes the issues and anxieties of entering adulthood. Filled with gut-busting humor and a delightfully catchy score (not to mention the use of full-size puppets that are animated by unconcealed human puppeteers), Avenue Q is a truly unique show that has quickly become a favorite of audiences everywhere! Although the show addresses humorous adult issues (and is not recommended for children), it is very similar to a beloved children's show; a place where puppets are friends. It is directed by Act II's Musical Director, Alfonso Lopez, and features a wonderful, international cast. Simply put, this show is perfect for those of us who may be wondering how the hell we got to this point in our lives and constantly questioning what our purpose is. But for now, you can just sit back, enjoy, belly-laugh, and rejoice at the marvel of this modern-day musical!
"20th Century Crooners" - Paul Fracassi
Every Sunday at 7:30 pm
Opening Night Welcome Back Party: Sunday, November 13 at 6:30 pm
"Starting Here, Starting Now"
November 14, 15, 18, 21, 22, 25, 28, 29 at 7 pm
December 2, 5, 6, 9, 13, 19, 20 & 23 at 7:00 pm
Opening Night and Act II 3-Year Anniversary Gala: Monday, November 14 at 6:00 pm
"Blame It All On Mexico" - Brittany Kingery
Every Monday at 7:30 pm
Don't miss the Opening Night Party for this 3-Time Tropical Rock Award Winner on Monday, November 14 at 6:00 pm.
"Sonico" - Alfredo Mendoza & Cristina Mariscal
November 15, 22 & 29 at 7:00 pm
December 6 & 13 at 7:00 pm
December 20 at 9:30 pm
"Walk Like A Man" - Starring Paul Fracassi
Every Wednesday at 7:30 pm
Opening Night Party: November 16 at 6:30 pm
Canadian Recording Sensation, Jeffery Straker
November 17, 19, 24 & 26 at 7:30 pm
November 18 & 25 at 9:30 pm
Don't miss the Opening Night Party for this performer that the Toronto Star gives "4 out of 4 stars" on November 17 at 6:30 pm.
"Simon & Girlfunkel, Sounds of Sirens" - Featuring Brittany Kingery and Stolie
Fridays at 7:30 pm
Opening Night/Welcome Back Party: Friday, November 18 at 6:30 pm
The Salty Paw Orchestra Presents "The Jazz Awakens"
One Night Only! - Sunday, November 20 at 8:00 pm
For show details, visit actiientertainment.com.

Tickets to all shows can be purchased online with no surcharge at act2pv.com, at the box office, which opens daily at 11:00 am on show days, or at the 2nd Box Office location, across the street from Garbos on Pulpito Street in the Romantic Zone.
The Act II Entertainment STAGES complex is located at Insurgentes 300 on the corner of Basilio Badillo on the South side of Puerto Vallarta. For more information, call (322) 222-1512, or follow Act II on Facebook. Click HERE to see what else is playing at Act II STAGES.