Puerto Vallarta, Mexico - "The Donald" made another unexpected appearance in Mexico on Monday, September 26, 2016. Well, actually it was Casa Cupula owner, Don Pickens, cleverly disguised as Trump at the Heckler's Delight Debate Party at Taste Restaurant, part of his luxurious boutique hotel on the southern shores of Puerto Vallarta.
It was a full house with over 50 people gathered to be entranced by the first presidential debate. There were plenty of oohs, aahs, laughter and sometimes gasps of genuine disbelief.
"What a difference, watching the debate with 40 or more relatively like-minded friends!" said Tom Swale, Proud Democrat. "At home I'm usually the only one talking back to the screen and laughing at the gaffes. The Chris Christy All-You-Can-Eat buffet didn't hurt, either."
The appetizer buffet was filled and refilled with sliders, sushi, mini caprese salads, a taco bar, ceviche, chicken wings, pizza, mini cheesecakes, brownies and more.
"It was an impressive turnout considering many expats/snowbirds have not yet returned to Vallarta," said Laura Gelezunas, co-host of the event. "What a wonderful night of exhausting words, 'the best words,' making new friends and feeling the election buzz."
Don Pickens is planning to host more debate parties at Taste @ Casa Cupula. You can join in on the fun on Sunday, October 9 and Wednesday, October 19, 2016. The doors open at 7 pm, and the cost is $299 pesos, which includes a welcome cocktail and the 3-hour-long Chris Christy All-You-Can-Eat buffet: appetizers, main courses and desserts.
Reservations are highly recommended because seating is limited. You can reserve your space by emailing Taste(at)CasaCupula.com. Please be sure to include the date(s) that you plan to attend.
There is also talk of an Election Night Extravaganza on Tuesday, November 8, 2016. Stay tuned to Puerto Vallarta's Liveliest Website! for details.
---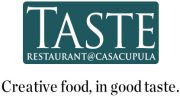 Taste at Casa Cupula is located at Callejon de la Igualdad #129 on the southern shores of Puerto Vallarta, Mexico. Whether for breakfast, lunch, dinner or a special event; discerning diners will appreciate our creative take on authentic Mexican Cuisine. For more information, visit Taste.com.mx. For reservations, click HERE, call (322) 223-2484 ext. 151 or email Taste(at)CasaCupula.com.

Click HERE to learn more about Taste.