Puerto Vallarta - Taste has reopened for the season offering new dishes demonstrating a passion for Creative Mexican Cuisine. Plan for a special tasting event where guests will be seated at tables of four to experience a variety of 6-8 Tastes. Chefs Cesar Barajas and Rafael Conde will be on hand to explain the fresh and local ingredients and the preparation of those dishes.
Enjoy this special tasting in the fresh air-conditioned dining room or on the wonderful terrace with new decorations, furniture and LED lights illuminating the trees around the restaurant. It's a sophisticated and perfect atmosphere to enjoy dinner with friends, another couple, or the new friends you'll meet.
For only $199 pesos per person, you'll enjoy an unforgettable dining experience that includes incredible 'tastes' of:
• Osso Buco Chicken
• Huitlacoche Risotto
• Huazontle
• Zarandeado Fish Filet
• Chile En Nogada
• Chicken with Almonde Mole
• Mahi-Mahi Hoja Santa
• Cochinita Pibil
• + 3 delicious desserts
Space is limited, so make your reservations now by calling (322) 223-2484 ext. 151, emailing taste(at)casacupula.com, or booking online at taste.com.mx.
---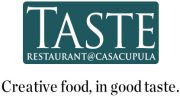 Taste at Casa Cupula is located at Callejon de la Igualdad #129 on the southern shores of Puerto Vallarta, Mexico. Whether for breakfast, lunch, dinner or a special event; discerning diners will appreciate our creative take on authentic Mexican Cuisine. For more information, visit Taste.com.mx. For reservations, click HERE, call (322) 223-2484 ext. 151 or email Taste(at)CasaCupula.com.

Click HERE to learn more about Taste.