Puerto Vallarta, Mexico - This has been one of the most contentious U.S. presidential election cycles in recent history. We have been bombarded on television, radio and of course social media. Families are split, friends are no longer talking and everyone is stressed out. The culmination of way too many months of campaigning will be coming to a head soon and a new president is a cause for celebration.
The people at Taste Restaurant in Puerto Vallarta would like to extend their invitation to some peace, well, maybe a bit of shouting and nail biting, during their Election Night Extravaganza on November 8, 2016, which runs from 7 pm to 12 am. There will be two big movie screens indoors with AC to keep you cool and there will be one screen pool side.
"Presidential elections only come around every four years, but whether you are a political junkie or just a dabbler, they provide brilliant viewing that usually lasts deep into the night," says Laura Gelezunas, Party Sponsor and Boardwalk Realty Sales Agent. "This election cycle has shown us the pompous, the controversial and more silly pundits than can be counted - all turn into comedy gold. So why watch the coverage alone when you can watch it with friends?"
Taste has a new dinner menu and all party affiliations are invited to indulge in their special deal of Three Tastes for only $299 pesos. You can choose your sample plates from the entire collection. Here are just a few of the dishes:
Starters
• Calamari Tostones over an organic lettuce mixed salad with mango & chili de arbol dressing
• Duck Confit Sopes accompanied by black beans mousse, truffle oil, sour cream, fresh cheese and Xni-Pec salsa
Seafood
• Tuna Medallion, seared with sesame seeds accompanied by roasted vegetables, eggplant and poblano pepper sauce
• Adobo Jumbo Shrimp, grilled in a ten chili and achiote marinade and served with a plantain pureé, baby organic vegetables and pineapple with habanero sauce
Meat
• Cochinita Pibil, slow-roasted pork in a rich tomato based sauce with Xni-Pec, cream, avocado salsa and tortillas on the side
• Tamarind BBQ Pork Ribs, glazed in sweet tamarind BBQ sauce and served with potato pureé and salad with goat cheese
Poultry
• Osso Buco Chicken, leg and thigh meet stuffed with goat and Oaxaca cheese and epazote under a peppermint mole
• Duck Margret paired with fig mole, served with mixed potato & sweet potato tournée
Pasta
• Chipotle Pasta, garlic sautéed shrimp or chicken over fresh pasta with roasted cherry tomatoes in a creamy chipotle sauce and parmesan cheese
• Black ravioli stuffed with goat cheese and thyme with cinnamon sauce
Taste is located in a secluded tropical setting among lush foliage with twinkling lights. It is a relaxed atmosphere, but there will be lively times during the election party. They offer a full bar, a diverse wine list that includes excellent Mexican brands, as well as the restaurant's signature cocktails.
"We're delighted to accommodate your special dietary needs," says Don Pickens, owner. "We have vegetarian, vegan, gluten free and lactose free dishes."
To reserve your private table, book now by email at taste(at)casacupula.com. Seating is limited so make your reservation now.
---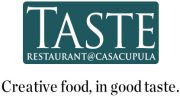 Taste at Casa Cupula is located at Callejon de la Igualdad #129 on the southern shores of Puerto Vallarta, Mexico. Whether for breakfast, lunch, dinner or a special event; discerning diners will appreciate our creative take on authentic Mexican Cuisine. For more information, visit Taste.com.mx. For reservations, click HERE, call (322) 223-2484 ext. 151 or email Taste(at)CasaCupula.com.

Click HERE to learn more about Taste.