Puerto Vallarta, Mexico - The fun never ends at STAGES, where you can enjoy high-quality live entertainment every night of the week! From award-winning musicals & plays to captivating cabaret acts and the most outrageously entertaining drag shows, Act II Entertainment has something for everyone to enjoy.
This Week's Line-Up of Shows:
Wednesday 11/30
6:00 pm - Joby in Encore - No Cover
7:00 pm - Avenue Q
7:30 pm - Paul Fracassi in Walk Like A Man
9:30 pm - Tipsy Rose Lee in Bombshell
Thursday 12/01
6:00 pm - Gabe in Encore - No Cover
6:30 pm - Welcome Party for Renee & Paul
7:00 pm - Avenue Q
7:30 pm - Opening Night of Laurel Canyon
9:30 pm - Mama Tits in Sweet Like Candy
Friday 12/02
7:00 pm - Starting Here, Starting Now
7:30 pm - Simon and Girlfunkel
8:30 pm - DELIGHTED TOBEHERE Party
9:30 pm - Opening Night of Turn Delight On
Saturday 12/3
6:00 pm - Joby in Encore - No Cover
7:00 pm - Avenue Q
7:30 pm - Rocky Mountain High - One Show!
9:30 pm - Tipsy Rose Lee in Bombshell
Sunday 12/4
6:00 pm - Joby in Encore - No Cover
7:30 pm - 20th Century Crooners
8:00 pm - The Voice Of Vallarta
9:30 pm - Turn Delight On
Renee Armand Returns to Puerto Vallarta with an All New Show... "Laurel Canyon"
Opening Night Welcome Party
Thursday, December 1 at 6:30 pm
"Laurel Canyon"
Starring Renee Armand and Paul Aleman
December 1, 8, 10 at 7:30 pm
December 6 at 9:30 pm
Laurel Canyon. The crossroads between Beverly Hills and Hollywood. The "golden" place where crazy young musicians in their 20's, like Carole King, Linda Rondstadt, Judy Collins, the Beatles, Mamma Cass, the Eagles, David Crosby, Steven Sills, Graham Nash, Frank Zappa, Joni Mitchell and Renee Armand lived... and loved... and wrote music... that affected a lifetime. Renee Armand and Paul Aleman present "LAUREL CANYON," the untold story. Performed brilliantly in songs and stories, Renee will share things that she has never talked about... until now. Some of it will shock you, some will make you cry, some will make you laugh, but most of all, you'll be glad you came! Renee and Paul presented Rocky Mountain High (The Definitive Tribute to John Denver) last season to sold-out audiences here at Act II. John Denver's wife, Annie, was in the audience and absolutely loved it. Paul and Renee perform with an enthusiasm that draws audiences in and has them singing along after the first few bars. We are thrilled that Renee and Paul are returning to The Red Room once again and we can't wait to see their new show!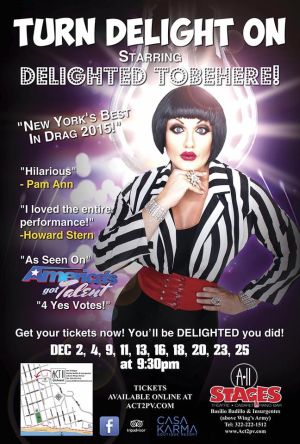 NYC Drag Queen Opens in The Red Room
Opening Night Welcome Party
Friday, December 2 at 8:30 pm
"Turn Delight On"
Starring DELIGHTED TOBEHERE
December 2, 4, 9, 11, 13, 16, 18, 20, 23, 25 at 9:30 pm
Yes, these are dark times, my friends, but don't worry! All you have to do is... Turn Delight On! Join us as we welcome New York's "Best In Drag" Winner and internationally-celebrated drag star, Delighted Tobehere, for a night of hilarity and song! DELIGHTED TOBEHERE is a "southern belle," originally from Charlotte, NC, who now lives in New York City. A graduate of Clemson University, she is an accomplished vocalist, entertainer, comedian, and celebrity illusionist. She is well known for her impersonations of Reba McEntire, Adele, Adam Lambert and Dolly Parton! She appeared on Season 10 of America's Got Talent and her performance of Josh Turner's "Your Man" earned her four "YES" votes! "I loved the entire performance!" says Howard Stern. Australian comedienne, Pam Ann, says DELIGHTED TOBEHERE is "hilarious!" Get your tickets now! You'll be Delighted you did!
"Rocky Mountain High," Renee Armand & Paul Aleman Return for One Show Only!
One Night Only!
December 3 at 7:30 pm
Act II is thrilled to welcome Renee Armand and Paul Aleman back to its Red Room for a one-night performance of their popular show, Rocky Mountain High, the Definitive Tribute to John Denver. This heart-warming show was presented to sold-out audiences last season, and it received rave reviews! Paul is an extraordinary singer/guitarist who captures the very essence of John Denver. You may recognize Renee as the voice behind the Oscar-winning song from The Poseidon Adventure, "The Morning After." Renee also sang and toured with John Denver in the 1970's and 80's, and weaves fascinating stories and anecdotes about John Denver throughout their show. Last year, John Denver's wife, Annie, made a special trip to Puerto Vallarta just to see their show at Act II, and she absolutely loved it! Welcome back, Renee and Paul! Puerto Vallarta loves you! This show will surely sell out, so don't delay, buy yours TODAY! at act2pv.com.
Continuing This Month at Act II STAGES
"Avenue Q" - An American Musical and 3-Time Tony Award Winner
November 30 at 7:00 pm
December 1, 3, 7, 8, 10, 14, 21, 22 at 7 pm
Called "The Best Show in Vallarta Entertainment History," Avenue Q is a delightful, laugh-out-loud American musical that was performed on Broadway from 2003 to 2009. Audiences everywhere have been captivated by its fresh and funny story, and it won the prestigious 2004 "Triple Crown" for Tony Awards... Best Music, Best Score and Best Book!
"Starting Here, Starting Now"
The Broadway Hit Musical
December 2, 5, 6, 9, 12, 13, 19, 20, 23 at 7:00 pm
Starting Here, Starting Now ("The Perfect Vallarta Musical") is a Musical Revue by David Shire and Richard Maltby Jr. David Shire has composed film scores, such as
All the President's Men
and
Farewell My Lovely.
Richard Maltby Jr. wrote the lyrics to
Miss Saigon,
and together with David, they have written the musicals, "Baby," "Closer than Ever," and "Big." From tender ballads to hysterical husband-hunting laments, from wry comments on trendy marriages to ecstatic shouting-from-the-rooftop celebration,
Starting Here, Starting Now
has an appealing freshness that has made it a perennial favorite throughout the world.
"Simon & Girlfunkel"
The New Favorite Show of the Season!
Sounds of Sirens celebrating the songs and harmonies of Paul Simon & Art Garfunkel
Featuring Brittany Kingery and Stolie
Fridays at 7:30
New "old friends," Brittany Kingery and Stolie, unite their silky vocals in an acoustic show paying tribute to the most successful folk-rock duo of the 1960's, Paul Simon and Art Garfunkel.
They completely blew away the audience last night at the Red Room. - Jim Davis
Their two voices blended so well that I felt like I was hearing one singer, but watching two beautiful performers at the same time. Their harmony was unmatched by any two female performers I have ever witnessed. The chemistry between these two ladies is undeniable. - David Wilhoit
Marilyn is Alive and Well and Performing in The Red Room!
"Bombshell" - Starring the one and only... Tipsy Rose Lee
December 3, 7, 10, 14, 17, 21, 24, 28 at 9:30 pm
We are thrilled to welcome Seattle star, Tipsy Rose Lee, and her show, "Bombshell," to Act II Entertainment! Tipsy Rose Lee is an outlandish, unconventional and HILARIOUS performer who will take you on a journey deep into the private life of the incomparable Marilyn Monroe! Both audiences and critics LOVE the hilarious plot and the great songs that tell the "provocative and private side" of Marilyn's life. If you're looking for lots of laughs, this is definitely the show for you!
Paul Fracassi Returns for his 4th Season in The Red Room
"20th Century Crooners"
Every Sunday at 7:30 pm
Paul Fracassi, you have made me swoon, again! You've made me happy to have been alive to remember those moments when I first heard those songs by the great Crooners. In your 3rd season here in Puerto Vallarta, you've show how your voice has matured & your confidence increased. What I loved most was watching how you and Camilla openly shared your love for each other with us. "Crooners" is another DON'T MISS show in Act II's Red Room Cabaret. - Tricia Lyman
The Voice Of Vallarta, Season 4
Every Sunday through April 9 at 8 pm
Join us this Sunday for Part Two of the opening week as we introduce the last 12 contestants. The Voice Of Vallarta has returned! It is the highest-attended show in Vallarta history and received the prestigious "Best of Vallarta" award from Vallarta Lifestyles Magazine! Once again, Voice of Vallarta is looking for the best singer in the Bay of Banderas!
"Blame it All on Mexico"
Starring Brittany Kingery
Every Monday at 7:30 pm
Act II Entertainment is excited to welcome back the one-and-only, chart-topping, award-winning, Darling of Vallarta, Brittany Kingery, this season! Every Monday evening, Brittany will bring her sweet, soaring voice and all-live band, appearing as a headline singer on the Red Room Stage. Originally from Washington State, now residing in Vallarta, her critically-acclaimed original and cover songs have been inspired by her experiences and life here in Mexico! She has also earned quite a reputation with huge accolades from her many fans of Troprock & Acoustic music.
"Sonico"
Starring Alfredo Mendoza & Cristina Mariscal
December 6, 13 at 7:00 pm
Sonico is a full band, featuring a saxophone, trumpet, drums, guitar, bass, keyboard and two singers. They play chart-topping covers like Stand by Me, Careless Whisper, Uptown Funk, and an array of other great songs, from Elvis Presley to Justin Timberlake. Rock, jazz, swing, rockabilly, songs you know! Then, in order to wrap it all up, they throw some great Latin sounds into the mix! We are excited to showcase such great local talent right here in The Red Room!
"Walk Like a Man"
Starring Paul Fracassi
Every Wednesday at 7:30 pm
The number-one selling show in Puerto Vallarta! Come see Paul present the music of The Four Seasons for his show, including Dawn, Rag Doll and Can't Take My Eyes Off of You, and Walk Like a Man. He handles Frankie Valli's songs as if Frankie Valli himself was on stage singing them in his early years on the Ed Sullivan show! Come hear Fracassi hit those high notes!
"Sweet Like Candy" - a Jazz & Blues Tribute
Featuring Mama Tits
Mondays & Thursdays (through December 29) at 9:30 pm
Mama Tits definitely left a great impression in Vallarta after a very successful run last year with her fabulous show, Mayhem with Mama! We are very excited that she is returning to Puerto Vallarta this year with her solo show, "Sweet Like Candy." An amazing performer, Mama Tits always "thinks out of the box" to come up with outrageous new twists to tell her favorite stories! Each section of her show is a whirlwind of song and dance and quick-change magic... guaranteed to make you laugh uncontrollably and beg for more! Mama Tits has created this tribute to Jazz and Blues exclusively for the Puerto Vallarta audience.

Tickets to all shows can be purchased online at actiientertainment.com, at the box office, which opens at 10 am on show days, or at the 2nd Box Office location, across the street from Garbos on Pulpito Street in the Romantic Zone.
The Act II Entertainment STAGES complex is located on the corner of Insurgentes and Basilio Badillo on the South side of Puerto Vallarta. For more information, call (322) 222-1512, or follow Act II on Facebook. Click HERE to see what else is playing at Act II STAGES.