Puerto Vallarta, Mexico - At Taste we love to celebrate Thanksgiving with guests and friends. Each year we enjoy a delicious buffet dinner and this November 24th won't be any different... except that this time we have more to celebrate and to be thankful for - like the restaurant's recent renovations.
Taste reopened October 12th with a new look. Taking advantage of our lush tropical setting among the jungle foliage, we have added a new outdoor awning and pergola as well as new outdoor furniture. Enjoy watching our local iguanas in the morning and birds in the afternoon. At night, new LED lighting in the jungle foliage makes for a splendid (yet TASTEful) display.
For those hot or humid nights, we will now offer air conditioning in the main dining room! Dine in chilled comfort while you enjoy the Creative Mexican Cuisine prepared by Chef Cesar Barajas.
Come celebrate Thanksgiving with us and be prepared to discover a new Taste Restaurant at Casa Cupula, where you will enjoy good times and fabulous food surrounded by a comfortable, natural ambience and friends - all season long!
Taste Restaurant's 2016 Thanksgiving Buffet Menu:
Soups: Pumpkin cream • Mushroom Soup. Entries: Summer Salad with organic lettuce mix, green apple, strawberries, caramelized nuts and blue cheese • Classic Waldorf salad • Serrano Cured Ham and melon bruschetta. Main Courses: Roasted Turkey with herbs • Turkey Breast • Smoked Ham. Sides: Classic Stuffing • Potato Puree with scallions • Sweet Potato Cake with marshmallow • Sautéed Green Beans with roasted garlic • Sautéed carrots with fine herbs • Brussels sprouts. Sauces: Classic Cranberry sauce • Gravy • Mushroom sauce. Bakery: Artisanal bread selection. Desserts: Pumpkin pie • Apple pie• Pecan Pie • Chocolate cake • Vanilla ice cream
Celebrate Thanksgiving with friends at Taste Restaurant at Casa Cupula. From 7:00 to 11:00 pm, you'll enjoy all you can eat from the delicious buffet for just $599 pesos per person, so send an email to taste(at)casacupula.com to reserve your space TODAY!
---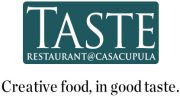 Taste at Casa Cupula is located at Callejon de la Igualdad #129 on the southern shores of Puerto Vallarta, Mexico. Whether for breakfast, lunch, dinner or a special event; discerning diners will appreciate our creative take on authentic Mexican Cuisine. For more information, visit Taste.com.mx. For reservations, click HERE, call (322) 223-2484 ext. 151 or email Taste(at)CasaCupula.com.

Click HERE to learn more about Taste.