Puerto Vallarta, Mexico - Award-winning Vallarta favorite, No Way José! Restaurant/Bar, invites you to celebrate a joyous holiday season in the warmest No Way Jose! style.
Keeping our honored tradition of presenting unique and innovative creations, this Christmas we present an exquisite menu starring the food of the Mayan gods: cacao.
This 4-course cacao-inspired Christmas menu is filled with daring recipes that inspire and arouse a deep passion for the essence of Mexican culture. These dishes represent the devotion to our heritage that will bind you even closer to your friends and family at Tu Casa en Vallarta this holiday season.
First course: Creamy Shrimp Bisque with a hint of Mezcal and fine herbs and a note of toasted cocoa bean.
Second course: Salad of cacao- and brown-sugar caramelized sweet apple, panela cheese with basil confetti, caramelized hibiscus with beet strips, dressed with a light cacao-infused oil.
Entree: Your main course stars a Cornish game hen stuffed with mixed dried fruit and glazed with cacao, perched on a beef medallion stuffed with red snapper, bathed in a pepper sauce with a hint of Mezcal.
Dessert: Creamy cacao mousse with black chocolate truffles infused with rum chiapaneco.
Our favorite trios will grace the No Way José! Terrace stage on these two festive nights. Enjoy Piel Canela on Saturday, December 24 starting at 8:30 pm and Los Romanceros, with special guest star Juan Citlalli, on Sunday, December 25 starting at 8:30 pm.
Make your reservations now to enjoy these delicate notes as we present this gastronomic Mexican melody for just $765 pesos per person. Feliz Navidad!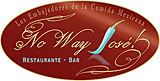 Open Tuesday through Sunday from 4:00-11:00 pm, No Way José! is located on the south side of downtown at 5 de Febrero 260, just over the Vallarta street bridge on your left heading south from the Malecón. Reservations are recommended and available by calling (322) 223-2853 or online at NoWayJoseMx.com. For more information, visit NoWayJoseMx.com, or join us on Facebook for real-time updates and special offers.

Click HERE to learn more about No Way José!