Puerto Vallarta, Mexico - Todd McGrain is a sculptor perhaps best noted for his larger-than-life bronze abstracts commemorating some of the magnificent bird species of North America that have been driven to extinction by human causes. These works have permanent installations throughout the US and Canada at locations relevant to the birds' former ranges or last inhabited environs, along with a series of traveling pieces to bring these sculptures to a greater audience to admire and inspire.
The Passenger Pigeon, one of Todd's muses, was formerly the most abundant bird in North America with a population of several billion. During their migrations, flocks would take days to pass over an area in such density that they would obscure the sun like an eclipse and their excrement would cover an area like a blanket of snow.
Beginning in the early 1800's commercial hunting of these birds began a steady supply of meat to the big cities. By 1900 the last wild bird was documented to be shot dead and a few years later the last captive bird died as well. To think that a bird of such bountiful numbers could be completely exterminated by humans within a century is alarming. The fact that most people are entirely ignorant of its former existence is just as frightening. Learning about what we've lost through our past mistakes means we still have a chance to save of what still remains.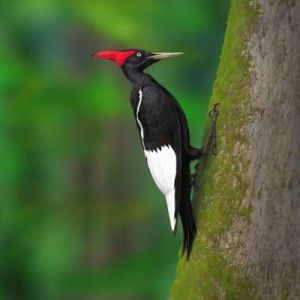 Mexico is also part of North America (all of it politically and most of it geographically) and was once home to an endemic bird, the Imperial Woodpecker, which was the largest species of woodpecker in the world. Considering that it hasn't received an observation with photographic documentation in over 60 years, the general consensus among birders and ornithologists is that it has also gone extinct. As sad as this might be, it's sadder still to know that very few people are even aware of its relatively recent extinction. Memorializing it can serve as a rallying point for saving Mexican bird species that are now under threat of extinction.
To this end, I connected with Todd several years ago in a pitch for him to visit and consider creating an Imperial Woodpecker statue and installing it here. Todd's busy schedule of international travel and art hasn't permitted him to plan a trip to Puerto Vallarta until now, but this March he'll attend our Vallarta Bird Festival and provide personal introductions to two screenings of his documentary, The Lost Bird Project.
The first will be in the 650 person Juan Luis Cifuentes Lemus Auditorium at the University de Guadalajara's Centro Universitario de la Costa on Friday, March 10, 2017 beginning at 1:00 pm. The second will be in the Vallarta Botanical Garden's Hall of Flowers Ballroom on Saturday, March 11, 2017 beginning at 6:00 pm.
During the course of the Vallarta Bird Festival, Todd will have an opportunity to get to know our city of Puerto Vallarta, the Vallarta Botanical Garden, our surrounding wild areas, the rich avifauna of our region, and our community. We hope to inspire Todd with a location for one of his exquisite and thought provoking sculptures so he, in turn, can help inspire conservation action for our local wildlife and their habitats.
Please help us show Todd a warm Puerto Vallarta welcome and demonstrate that one of his works of art would be very well received here. The best way to do so is to reserve your participation in the 2017 Vallarta Bird Festival by sending an email to eventos(at)vbgardens.org.

Located 30 minutes south of Old Town at Km. 24 on Highway 200, Vallarta Botanical Gardens offer something to keep every age group happy; from a Rose Garden for the romantic to jungle trails for the adventurous and a Carnivorous Plants area for the younger generation! The Botanical Gardens' vibrant and elegant settings also offer the perfect venue for weddings and special occasions. For more information, call (322) 223-6182 or visit vbgardens.org.
Click HERE to learn more about Vallarta Botanical Gardens.