Puerto Vallarta, Mexico - The local English speaking 12-Step recovery groups in Puerto Vallarta have formed the "Sobriety Under the Sun" Convention Committee and will be hosting their 15th annual Sobriety Under the Sun convention from January 20 through 22, 2017 at the luxurious Westin Hotel and Spa in the Marina Vallarta area.
This year's theme is "Happy Joyous & Free," with four main 12-Step Recovery Speakers:
Lyle P. - Atlanta, GA
James T. - Auburn, California
Linda M. - Calgary, Alberta, Canada
Stacey B. - Seattle, WA
Convenient online registration is available at
aapvconvention.com
until January 16, 2016. However, on-site registration for the convention will also be available beginning at 2 pm Friday and continuing until late Saturday. Hotel packages for those that wish to stay at the resort are available.
Expected to attend are more than 450 recovering alcoholics and other 12- Step recovery program members, most coming from the United States and Canada, along with seasonal visitors and full time local Puerto Vallarta residents. Large speaker meetings, discussion groups, workshops, dinners and social events are all planned for the convention.
An all-volunteer committee has been meeting weekly for the last few months in order to present the best possible conference for attendees. There will be registration tables, merchandise tables, literature tables and a Leave a Tile table; all open except during the main speaker meetings.
The convention begins Friday afternoon at 2:00 pm with 12-Step meetings followed with a "Meet and Greet" at 7:00 pm. The opening night speaker meeting begins Friday night at 8:00 pm. It will be followed by a beach meeting at 10:00 pm.
On Saturday the day will start with a sunrise open beach meeting at 7:00 am and there will be regular meetings and workshops throughout the day. From 9:30-11:30 am a four speaker panel will discuss working the 12-Step recovery principles in relationships.
From 1:00-2:30 pm will be a special Speaker meeting culminating with the traditional countdown. At 6:00 pm, the Sunset Banquet and dinner will be held outside on the Westin dining patio hosting a world-class ocean view (tickets are required and it is recommended to register early as the dinner always sells out, followed by the main speaker at 8:00 pm. At 9:30 pm, we will have our traditional Ice Cream Social. And, for those who wish to conclude their day with a meeting, there is a beach meeting at 10:00 pm.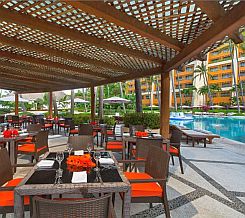 Sunday morning begins with another beach meeting at 7:00 am, followed by a complimentary continental breakfast for all attendees at 8:00 am. The Sunday morning Spiritual principals meeting will be at 9:00 am, followed by the final speaker meeting at 10:00 am. Following that will be the second traditional countdown of years in recovery. The individual member with the most years of sobriety will present a signed "Big Book" to the individual with the least amount of sober time. This is a favorite of all conference attendees. The conference will then come to a close at noon.
For those fortunate enough to stay another day, a big favorite of many is our Sober Cruise, which is the day after the conference on Monday. Many of our attendees say that the Sober Cruise is a wonderful way to socialize with sober friends while surrounded by the beauties of nature! Some would say that it's even "spiritual."
The day will begin around 9:30 am at Puerto Vallarta's cruise ship Maritime Terminal with a light breakfast of juice, coffee and Pan Dulce. We will return to the marina around 5 pm.
This year there are some great changes in store to enhance this wonderful cruise excursion. Those who want just beach time and no hiking, can disembark at Las Animas and be served lunch around 12:30. Those who want a 35-45 minute hike to the waterfall and a little bit of beach time will proceed from Las Animas to Quimixto and will be served an athlete snack of granola and fruit. (Horses are available for hire for those who have difficulty walking)
After some beach time and lunch around 2:30-3:00, it is "all aboard!" as the boat heads back to Puerto Vallarta at a leisurely pace. Since January is the best month for whale watching, our captain will seek out opportunities for us to see whales breaching and frolicking in Banderas Bay! Register for this special event on our registration page.
For more information about convention registration, as well as a detailed schedule of events, visit the official website at aapvconvention.com and navigate easily through the site to set up your conference itinerary. The cost for registration is $85 USD. Registration includes full access to all meetings and workshops - but not the Saturday night buffet - which has an additional cost of $48 USD.
Over fourteen years ago, a small group of local recovered and recovering alcoholics formed a convention to celebrate their sobriety and invite the rest of the world to join in the celebration. Conventions are common all over the world and the group felt that Puerto Vallarta would be an ideal destination to host a convention. The first in 2002 was actually named "Soberfest 2002" and the name was changed to "Sobriety under the Sun." We are now celebrating Sobriety under the Sun for the 15th year and each year attendance has increased.
In 2009, after 23 years the Puerto Vallarta Alano Club moved to its new and current location. The Club is now located at Basilio Badillo 329, just a few blocks south of the original Ciné Bahia location. The new wheelchair accessible location is on the ground floor on the north side of Basilio Badillo directly across the street from Johnny's Diner.
With the help from members of the Club, (which is an independent entity to all 12-Step "meetings," a major reconstruction of the "New Alano Club" has proved to be one that all are enjoying. The Club has one large "meeting" room and one smaller, more intimate "meeting" room. Improvements and upgrades have been made and are an on-going endeavor. A Beautification Committee has recently started and contributions are gladly accepted. For those coming to the convention, stop by and catch a "meeting" at the new Club. See The Website for detailed information and a "meeting" schedule.
Again, the website for information and registration for this year's convention is aapvconvention.com. From this site one can register online and choose from different packages or email for more information. Registration can be made easily via Pay Pal.
The SUS convention is a non-profit event - any extra monies are forwarded to 12-Step service groups to further assist others in their recovery efforts. For those registering after the convention begins, registration can still be made at the Westin from the start of the conference until Saturday evening before the main speaker meeting.
So, come and enjoy the weather which is generally in the high 70s to low 80's and sunny in January and dips to a frigid 62 degrees at night, thus the origination of the convention name. Most people extend their visit to a week or more to enjoy the paradise and charm of Puerto Vallarta. Come join the international group of wonderful people that have one common purpose; to get sober, stay sober and remain Happy, Joyous, and Free.