Puerto Vallarta, Mexico - Puerto Vallarta's 7th Annual Medical Matters Conference, a no charge community health care event featuring options for the Banderas Bay Community regarding day to day well-being and emergency health care needs, will be held at the Marriott CasaMagna Resort on February 13, 2017, from 9:00 am to 4:00 pm.
HealthCare Resources Puerto Vallarta, The US Consular Agency and the Marriott are proud to be hosting some very distinguished physicians as featured speakers at this year's Medical Matters Conference, including:
Dr. Alberto Marron
"Everything You Need to Know About Hip Problems"
Salon I-III - 2:00 pm
Dr. Marron is an Orthopedic Surgeon who is originally from Guadalajara where he went to elementary and high school and continued there through the University of Guadalajara for his medical degree. He did his specialty training in Mexico City and in Puebla. He participates in a wide variety of continuing education classes where he hones is skills as an orthopedic surgeon and performs hundreds of orthopedic surgeries of all kinds. Dr. Marron is the leader in the area performing stem cell treatments in orthopedic patients and as well, he uses the patient's own stem cells rather than harvesting elsewhere. This year, Dr. Marron will be speaking on all of the things one needs to know about hip problems - from pain to treatment. He is always one of our most popular speakers at Medical Matters!
Dr. Manuel Hernandez
"Ozone - Non-surgical Option for Back Problems"
Salon I-III - 3:00 pm
Dr. Manuel Hernandez is a well-respected, highly experienced orthopedic surgeon in the area. He is known for his non-aggressive treatments - no surgery unless absolutely needed which makes him very popular. From shoulder problems to broken bones - he's the man. His wife is a well-known and very kind anesthesiologist. (They also have a fabulous Dermatology store here in the area!) They have two small boys which, along with their busy practices, keep them running. Dr. Hernandez will be speaking on Ozone Treatments for folks with back problems. This will be a very interesting topic - and a possible option for many!
Dr. Carlos Garcia
"Focal Treatments in Prostate Cancer; the New Way to Cure"
Salon VI-VIII - 10:00 am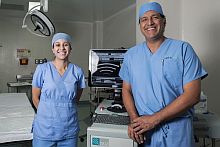 Dr. Garcia, Urologist, attended medical school at the University in Michoacan, and then two years in a general surgery specialty at the Hospital General Nezahualcoyotl followed by a urology specialty at Hospital Juarez de Mexico. Trained in HIFU in 2005, he became a HIFU proctor in 2010. He has travelled extensively to Uzbekistan, Poland, Israel and Turkey, training the urologists in that area about HIFU. He says: "Modern medicine has added years to life, but we now see a need to be able to add life to the years. We now have a large amount of men coming from all over North America to be treated by Dr. Garcia and his team. Needless to say, Dr. Garcia is "every guy's friend" and with his entertaining sense of humor, all of his patients not only receive the best in urological care, but they usually have some good laughs too! After even further travel and training this past year on prostate cancer treatments, we are anxious to have him present new and updated information.
Dr. Diaz-Nuñez and Dra. Christina Boover
"Aging & Hearing Loss; What You Need to Know & How to Prepare"
Salon VI-VIII - 11:00 am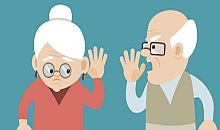 What a winning combination having Dr. Diaz (ENT) and Dra. Christina (Audiologist) co-speaking at Medical Matters this year. Dr. Diaz-Nuñez was born in Aurora, Illinois and raised in Mexico. He attended Autonoma de Guadalajara and his specialty training was done at Centro Medico Nacional de Occidente in Guadalajara. He actively trains for triathlons and is currently training for a ½ Ironman in March. He enjoys meeting and helping many people, enriching his life. Christina recently moved here full-time with her husband and two children after commuting once a month from her home in Colorado to see patients here in Puerto Vallarta. We are thrilled to have her here all the time now! Christina's brother was deaf, which led her to an interest in not only learning sign language, but also in pursuing her career so she could assist more people like her brother. Since we are all "aging" this is an important topic for everyone!
Note: We suggest that you visit each speaker at their exhibit to ask questions and obtain further information, not at the talk. This is so we can continue to run on time.
No pre-registration or reservations are required for the talks, just look for the Medical Matters Volunteers, who will direct you to the various salons.
For a detailed description on more speakers and their topics, keep checking this page on BanderasNews.com. As the date draws nearer, we'll be publishing complete bios on all of the speakers and further details on their talks.