Puerto Vallarta, Mexico - Casa Cupula is proud to support SETAC, the LGBT community center of Puerto Vallarta, which is focusing on preventing and treating HIV/AIDS in our community. Together they are committed to bringing PrEP to the greater Banderas Bay area as part of a major new international campaign to prevent HIV.
For many years, much of the gay community in the US has begun to have access to PrEP (Pre-exposure prophylaxis) which basically means taking a Truvada a day to prevent HIV. Unfortunately, due to cost this has been unavailable to local residents of Puerto Vallarta. As a result, SETAC still deals with 1-2 new HIV infections a day, which is way too high.
Now, HIV is preventable. SETAC is on the verge of receiving a supply of it at no cost from a UN program which starts with four countries including Mexico, and PV is one of the first cities in Mexico to set up the test program.
In order to qualify, SETAC needs office space in a properly zoned area which offers a treatment room, lab facilities and expanded space. In order to take PrEP, one must have kidney and liver function checked and also be tested negative.
SETAC needs to raise $10,000 and is fortunate to have the support of Broadway Cares/Equity Fights AIDS which matched the first $2500 in contributions. Only a few thousand more dollars are needed, and any amount is appreciated. Please visit gofundme.com/PrEPinPV to donate today.
Casa Cupula is proud to announce that our annual Easter Bonnet Brunch for 2017 will be a fundraiser for SETAC dedicated to this cause. And that we will also match the next $500 in donations made to SETAC.
For more information about SETAC, please click HERE or visit their Facebook page.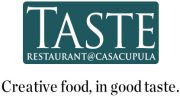 Open Wednesday through Saturday from 8:30 am to 5:00 pm for Breakfast and Lunch, and from 6 to 11 pm for Dinner, and on Sundays from 10 am to 3 pm, Taste at Casa Cupula is located at Callejon de la Igualdad #129 on the southern shores of Puerto Vallarta, Mexico. For more information, visit Taste.com.mx. For reservations, click HERE, call (322) 223-2484 ext. 151 or email taste(at)casacupula.com.


Click HERE to learn more about Taste.
---

The purpose of the SETAC Community Center, located at Rio Santiago #174 in the El Fluvial neighborhood of Puerto Vallarta, is to provide essential services to the community, including physical and mental health treatment, referrals, and education in an atmosphere of safety, free from discrimination. For more information, contact Paco Arjona at (322) 224-1974 or
paco(at)setac.com.mx.
Click HERE to learn more about Centro Comunitario SETAC.