Puerto Vallarta, Jalisco, Mexico - Spring is in the air! Come celebrate Winter's last gasps with us at No Way José! In addition to great food and friends, there's always something fun going on at Tu Casa en Vallarta!
Luz de Luna Friday & Saturday Nights
To make your dining experience even more memorable, Gabrielle Tenney sings romantic Spanish ballads, accompanied by one of the most talented trios in Puerto Vallarta, Luz de Luna, every Friday and Saturday night from 7:00 to 10:00 pm.
The No Way José! VIP Club
No Way Jose's! exclusive VIP membership card not only shows your good taste, but saves you money every time you dine. Become a No Way José! VIP and save 10% off of your entire meal purchase on every visit. Ask us for your membership on your next visit to Tu Casa en Vallarta. *Some restrictions apply.
2 for 1 House Margaritas and Mixed Cocktails Every Day from 4-6 pm
Too much sun and fun got you down? Longing for a cool beverage? We've got just the thing for you (or two!) Stop in at Tu Casa en Vallarta and have two House Margaritas or mixed cocktails for the price of one! Every day between 4 and 6 pm join us for your favorite drink. And, since you are already here, why not stay for dinner?
No Way José! Staff Takin' a Day Off
Starting March 27, 2017, Tu Casa en Vallarta will be closed on Mondays, so the hard working team at No Way José! can take some time to enjoy the beautiful Spring weather with their families.
Out for a stroll? Visit us in the park!
The weekly Party in the Park is a great Friday night option in Puerto Vallarta's La Zona Romantica. FREE admission to the food court. Sample some of the best dishes from your favorite restaurants at a fraction of the cost. Only 3 more left, don't miss out! Join Tu Casa en Vallarta every Friday for an amazing night of food, drink, Mariachi, dancing and fun in Lazaro Cardenas Park starting at 6:00 pm.
Out of town?
If you're out of town at the moment and want to catch some Vallarta energy, check out the live stream on the Cuates & Cuetes' Webcam. Click HERE to view Los Muertos Beach, the pier, and happy people strolling. We hope it makes you eager for a return trip soon.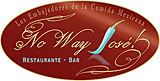 No Way José! is located on the south side of downtown at 5 de Febrero 260, just over the Vallarta street bridge on your left heading south from the Malecón. Open daily from 4 pm to 11:00 pm. Reservations are recommended and available by calling (322) 223-2853 or online at NoWayJoseMx.com. For more information, visit NoWayJoseMx.com, or join us on Facebook for real-time updates and special offers.

Click HERE to learn more about No Way José!