Puerto Vallarta, Mexico - There's always so much going on in Puerto Vallarta and around Banderas Bay it can be difficult to keep up with it all. Here's a look at some of this week's Puerto Vallarta news headlines, community announcements and a couple of this weekend's events that you won't want to miss.
Festival de Pascua Continues
The 2017 Festival de Pascua, which kicked off last night at Los Arcos del Malecón, is a celebration of music offering free concerts by eight different bands through Saturday. If you missed Thursday's performances by Three Circus, the Joker Trio Band and After the Nightfall - you missed some great entertainment! Don't miss the rest of the music fest, make plans now to be in downtown Puerto Vallarta tonight, when Wixarika Musica Cultural will perform at 7:00 pm; followed by Mariachi Continental at 8:00 pm and Codiciados del Puerto at 9:00 pm. The festival wraps up on Saturday the 22nd with performances by Chepi's Rock Band at 7:00 pm and the Retro Group at 8:00 pm. You can get a sneak peek at some of the performances at
canaldelpuerto.tv.
Puerto Vallarta Launches Office of Gender Equality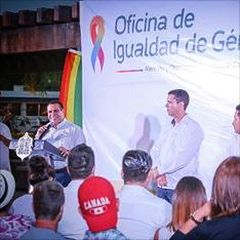 Puerto Vallarta has further committed to being an LGBT-friendly city with the recent opening of the Office of Gender Equality at Lazaro Cardenas Park. During the inauguration ceremony, Mayor Arturo Davalos Pena made a statement about the decisions: "Since its consolidation as an international tourist destination, the city of Puerto Vallarta has been praised for providing hospitality, friendliness, and high standards of quality to all its visitors. Puerto Vallarta is today a city where we consider as primordial interest the respect for differences through a dignified, respectful and equal treatment for all people regardless of nationality, race, religion, sexual orientation and gender identity." Afterwards, the president of Puerto Vallarta's LGBT Association of Commerce and Tourism, Genaro Mendoza Cruz, pointed out that in 2016 Mexico attracted 2.9 million LGBT tourists. This sector represents 10% of the international tourism in our country, and in Puerto Vallarta the percentage is much higher. Because of Puerto Vallarta's popularity as a vacation spot for the LGBTQ community, as part of the initiative, the city is also encouraging local businesses to offer employees sensitivity training. Some of the sensitivity training for businesses is being sponsored by the Puerto Vallarta Tourism Board along with the Mexico Tourism Board and Mexico's Ministry of Tourism. The aim is to "strengthen LGBT offerings in the destination with quality, inclusive and respectful products and service."
Restaurant Week 2017 Menus are Now Available!
Two more restaurants have been added to the line up of Puerto Vallarta and Riviera Nayarit eateries that will be participating in the 13th edition of Vallarta Restaurant Week, set to take place May 15-31, 2017. Since its launch by
Vallarta Lifestyles
magazine in 2005, Restaurant Week has encouraged some of the best restaurants in the region to offer special three-course menus at very affordable prices for 17 days every year. Menu pricing is determined by each of the participating establishments, but this year they are set at $229 or $349 pesos per person. (Tips and beverages are not included.) This year there are forty-four wonderful restaurants to choose from, and only 17 days to sample the culinary talents of some of the finest chefs in the Banderas Bay area, which can make it hard to decide where to dine. To help you make up your mind, Vallarta Lifestyles has published the
2017 Restaurant Week menus on their website.
This is one of the Banderas Bay region's most popular annual events so, go take a look at the menus, and make plans now to be in Puerto Vallarta from May 15-31 for Restaurant Week 2017!
Weekend Events in Puerto Vallarta and Around Banderas Bay
Click on titles for more information
• Season's Last South Side Shuffle This Friday
• Earth Day Weekend at the Vallarta Botanical Garden
• Saturday Shopping is Fun at Mercado Los Mangos
• 17th Bucerias Oyster Festival Offers Free Food and Fun