Puerto Vallarta, Mexico - There's always so much going on in Puerto Vallarta and around Banderas Bay it can be difficult to keep up with it all. Here's a look at some of this week's Puerto Vallarta headlines, a few community announcements and a couple of weekend events that you won't want to miss.
Vallarta Garden Club Needs Donations for 'Beautifying Vallarta'
In a town that relies on tourism, the Puerto Vallarta Garden Club's (PVGC) mission of 'Beautifying Vallarta' makes all other endeavors here more successful. Because of their supporters' generosity and the success of various fundraising events, as well as the hard work of the garden club's board and volunteers, the PVGC's beautification mission is going strong. During the month of March alone, volunteers planted 7 palm trees and 1,635 shrubs and plants. In January and February, they planted more than 1,000 plants each month and will plant a similar amount in April. With all of these purchases, they now need to raise money for their next round of plantings and would like to ask for your help. As summer approaches, they would like to take advantage of this quiet period and plant a large number of palms. These plants, in particular, are expensive and any donation you can make would be greatly appreciated. Can you help buy a new Palm? Flowers? Plants? You can
donate online through their website
, or, if you would like to make a cash donation, please send an email to
davidmuck(at)yahoo.com
(David Muck, Garden Club President) and he will make arrangements to collect your donation.
Corazón de Niña Opens New Thrift Store in Marina Vallarta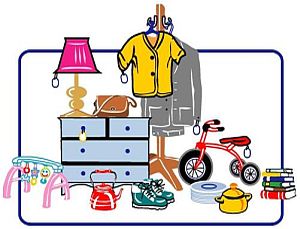 In addition to the resale shop at Venustiano Carranza 466 on Puerto Vallarta's south side, Corazón de Niña, the foundation that provides a nurturing family environment for at risk girls and boys of all ages, has recently opened a new thrift store in Marina Vallarta. Do you need gently used furniture, clothing, jewelry, books, artwork, toys, household items or a small appliance? Why not buy it from a shop that supports this incredible household of 45 children? The store is run by volunteers, everything has been donated, and all monies go directly to the charity that always needs funding - especially now, as we head into the summer season. We are currently in need of more volunteers, more things to sell and, with so many mouths to feed daily, please consider dropping off any non-perishable food items or anything you brought down and now don't have room for in your suitcase. We even have a large 'piggy bag' for all of those heavy, unused Pesos... feeding her with Canadian or American dollars helps to provide a safe home to rescued children from high risk situations including abuse, abandonment and human trafficking. Open Monday through Saturday from 10:00 am to 6:00 pm and on Thursday nights during the Marina Market, the new Corazón de Niña Thrift Store is located right beside Victor's Place (Las Palmas Condos) in Marina Vallarta. For more information please visit:
fundacioncorazon.mx,
or on
Facebook.
This Easter, Forget About Eggs, Eat Tacos!
This Easter weekend, instead of gathering up a bunch of colored eggs, gather up your friends and family and head over to the Puerto de Luna Hotel's Jardín de la Luna for the 2017 Puerto Vallarta Taco Fest. Set to take place from 2:00-10:00 pm on April 15 & 16 in the Puerto de Luna Hotel's Jardín de la Luna, this family-friendly event will feature twenty of the best taco restaurants in the city offering a wide variety of Mexico's most representative dish - the taco! - not to mention beer and tequila tastings, traditional Lucha Libre exhibitions, live music and other fun activities. Come out and spend a very pleasant evenings (or two!) with your family while enjoying the sights, sounds and flavors of Mexico. Lots of tradition, lots of flavors and lots of tacos... all in one location. Your senses are in for a great treat! For more information, visit
Festival del Taco on Facebook.
El Jardin de la Luna is located at Av. Medina Ascencio #2500 Int. #217. Tel: (322) 225-0480. Click HERE to see location map.
Weekend Events in Puerto Vallarta and Around Banderas Bay
Click on titles for more information
• Do the South Side Shuffle This Friday
• Saturday Shopping at Mercado Los Mangos
• 'Casa Valentina' Opens Saturday at Act II STAGES
• Beers, Boys & Burgers, Sunday at Hotel Mercurio