Puerto Vallarta, Mexico - Since 1986, Archie's Wok has been legendary in Banderas Bay for serving up original Asian cuisine influenced by the flavors of Thailand, China, and the Philippines. Don't miss your chance to sample the fresh, Pan-Asian dishes on their 2017 Vallarta Restaurant Week menu, which offers three courses for $269 pesos, and is being served from 2 to 11 pm through May 31st.
A great place to meet friends and family, Archie's Wok offers excellent food and great service in the casually elegant atmosphere of the air-conditioned dining room or Asian style garden. The restaurant's eclectic dishes combine Pacific Island foods, Asian cooking techniques, Mexico's freshest ingredients and a host of cultural and culinary influences.
2017 Restaurant Week Menu at Archie's Wok
Select one from each category for $269 pesos
Appetizers
• Wontons Filled with Cream and Goat Cheeses, Shitake mushroom, aromatic Asian herbs
• Thai Green Papaya Salad – With dried shrimp, peanuts and chile in a saucy dressing
• Asian Gazpacho – With cilantro cream, fresh and vibrant, slightly spicy
Main Dishes
• Pan Seared Fish Fillet – With a gingery hibiscus flower sofrito
• Grilled Shrimp Brochette with Calamari Cocktail – With strawberries, lemongrass and mint
• Verde Fried Rice – With an Asian pesto and Poblano chile. Add chicken, shrimp or tofu
Desserts
• Coconut and Mango Mousse
• Citrus Cloud
• Gelato du Jour
Complement your meal with a choice from the great collection of wines, beers and cocktails. Archie's Wok combines the best of Asian fusion cuisine with first class service in a serene environment. And, with live classical and contemporary music on Friday evenings, your meal will be even more memorable.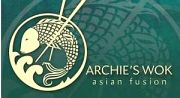 Open Monday through Saturday for lunch and dinner (2-11 pm), Archie's Wok is located at Francisca Rodriguez #130, just steps away from the Los Muertos Beach Pier on the south side of Puerto Vallarta. No reservations needed. For more information, call (322) 222-0411 or send an email to Info@ArchiesWok.com.
Click HERE to learn more about Archie's Wok.