Puerto Vallarta, Mexico - There's always so much going on in Puerto Vallarta and around Banderas Bay it can be difficult to keep up with it all. Here's a look at some of this week's Vallarta-Nayarit headlines, community announcements and a couple of this weekend's events that you won't want to miss.
FREE Puerto Vallarta Health and Wellness Expo
On Sunday, June 25 from 7 am to 7 pm the Hotel San Trópico in Marina Vallarta will host the Expo Health & Wellness Puerto Vallarta. Designed to inform and motivate our community to improve both their physical and emotional health, this FREE and open to the public expo gives everyone the opportunity to learn about the latest trends in fitness, healthy lifestyle, nutrition, self care, holistic medicine and meditation. There will also be stands offering vegan food, organic products, yoga gear/wear and glucose testing by a nutritionist, as well as free healthy cooking and Ayurveda workshops.
The Hotel San Trópico is located at Flamingos 161 in Marina Vallarta. For more information, visit the Facebook event page.
Wibit Mex Aquatic Park Opens in The Riviera Nayarit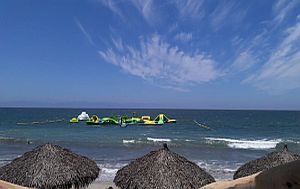 Wibit, the latest trend in adventure aquatic parks, has arrived in the Riviera Nayarit, specifically to the beach in Bucerías. This new attraction consists of the installation of a series of inflatables in different shapes that together make up a fun circuit that gets the adrenaline pumping. Bouncy houses, slides, rope towers, bridges, domes, curves, walkways, half tubes and much, much more are part of the fun. Children aged four and up are allowed in the park as long as they know how to swim and they must wear floating equipment or life jackets. To complement Wibit's own safety conditions and trained personnel, the area where the park was installed also coincides with a lifeguard tower manned by the Department of Public Safety. The price is $350 pesos per hour, per person, or $700 pesos for the full day. Groups of over 10 people receive a 20% discount. There are other discounts for residents of Bucerías and Nuevo Vallarta who have a photo ID. The park is open from 10 am to 7 pm. The main offices are located on Avenida del Pacífico #15 (entrance is through Breakers Beach Club). For more information, call 01 (329) 298-1298, or visit their
Facebook page.
Omakase Returns to Hiroshi Restaurant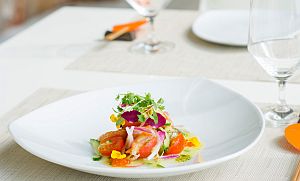 Following the success of last year's debut at Hiroshi restaurant, Puerto Vallarta's Hotel Mousai invites everyone to indulge your taste buds once again with a tempting selection of the finest Japanese cuisine during OMAKASE 2017. Omakase is the name for the free-style Japanese dining experience whereby diners give the chef full freedom to serve what he or she is inspired to serve. Each week, Hiroshi's resident chef, Carlos Leyva, will collaborate with a different top Japanese cuisine specialist who will lead the kitchen in preparing a multiple course innovative feast to serve diners who order the OMAKASE chef's table experience. Hotel guests and local residents can expect to sample the culinary talents of celebrated chefs from some of the best Japanese restaurants in the United States including Sushi Roku, Aburiya Raku, Sushi Garage and Morimoto. Hiroshi will also be adding a temporary selection of signature dishes to the menu created by the featured chef which will be made available from Thursday through the following Wednesday when the next chef will take the lead.
Hotel Mousai is located on the Garza Blanca Preserve, just south of Puerto Vallarta at Carretera a Barra de Navidad Km. 7.5. For more information, visit hotelmousai.com.
Weekend Events in Puerto Vallarta and Around Banderas Bay
Click on titles for more information
• Three Hens and A Rooster & Marsol Markets Still Open
• Marina Riviera Nayarit Summer Solstice/Sailstice 2017
• Daiquiri Dick's Summer Sizzle - Hot Deals on Gourmet Meals
• 'Beers, Boys & Burgers' Every Sunday at Hotel Mercurio