Puerto Vallarta, Mexico - This summer's "Spotlight On Vallarta" series has turned out to be one of the most well-received projects that Act II has ever done! It has allowed Act II to highlight and showcase some of the incredible talents that Act II has discovered, from people living right here in Puerto Vallarta!
Act II is so proud of the stars of "Spotlight on Vallarta," Gabe Arcineaga, Emperatriz Valles, Trinity, UsTwo, Diana Villamonte, and Kami Desilets! Several "Spotlight" shows are closing, so we urge you to get your tickets now. Tickets are available at act2pv.com.
"Motown and Beyond" - Final Show!
Starring Diana Villamonte
August 5 at 7:30 pm
Diana Villamonte, in the debut of her Red Room Cabaret Show for the winter season, "Motown and Beyond!" was a smashing success! Her show, a musical tribute (in English) to the great ladies of Motown and Beyond, such as Diana Ross, Shirley Bassey, Whitney Houston, Anita Ward, Etta James, Nina Simone, Aretha Franklin and Donna Summer, was thoroughly enjoyed by a wild and crazy audience on opening night, and on August 1 Diana again wowed the audience with her incredible voice and personality!
Diana has quite an extensive background as an artist. She sang her first solo at her aunt's wedding at the age of 3, and since then has studied music, ballet, modeling and theater. She entered her first singing competition at age 10 and also performed in several local plays.
In 2014, she won the Karaoke World Championship in Stockholm, Sweden, and was asked to participate in the Tokyo International Karaoke competition for the following two years. She sang as the "guest artist" at the competition in Singapore in 2015. Then, as a result of the notoriety she received after her karaoke successes, she was asked to star in a reality show on television in Central America. She now has a huge television following!
Diana was also a member of a band called "The Players" for two years at the Hard Rock Hotel Panama, has produced two singles, "Te Amo" and "Running," (available on YouTube), and just finished a stint as one of the main singers at the fabulous Rhythms of the Night.
Diana gained our attention as she competed in the Voice of Vallarta 2017. Each week, she demonstrated her amazing versatility as a musician, wowing the audience and judges with her singing ability and incredible stage presence, and she received perfect 10's almost every week.
This young lady is one of the most talented people we have ever met, and she is destined to be a huge star! We are beyond excited that Diana has agreed to perform here at Act II, so we invite you to come to the closing night of Motown and Beyond on Saturday, August 5 at 7:30 pm. Get your tickets at act2pv.com.
"The Gabest Show on Earth!" - Final Show!
Starring Gabe Arcineaga
Thursday, August 10 at 7:30 pm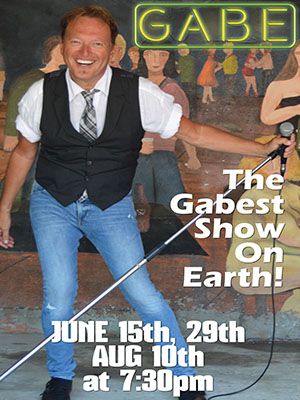 Gabe, the handsome and talented man that many will remember from his incredible singing performances in the Encore Room last season, as well as the lead role in 39 Steps, totally lived up to his promise of an incredible show! This theatrical triumph, which was produced, directed and co-written by the fabulous Alfonso Lopez, was filled with beautiful music, poignant stories, incredible comedy, exuberant dancing and lots of GOSSIP about his days of touring with Charo! People were riveted to their seats and could not believe the amount of talent this man has! This show is one of the most talked about opening nights in recent history! In fact, immediately after the show, about half the audience purchased tickets for his next two shows! Gabe's final show is Thursday, August 10. Tickets are selling fast and are expected to sell out, so if you definitely plan on attending, we recommend that you get your tickets now at
act2pv.com.
"Us Two" - Final Show!
Starring Noemi Plasencia and Daniel Celis
Saturday, August 12 at 7:30 pm
The amazing musical duo, "UsTwo," took The Red Room stage for the first time on Saturday, July 22nd for a preview of their upcoming Winter season show. By the time they had done their second show on the 29th, rumor had gotten around that this musical duo was not to be missed, and Danny and Noemi certainly proved that rumor to be true. Glowing reviews of Us Two immediately began pouring in, like this one that local entertainment writer, Gary Beck, posted to his Puerto Vallarta Shows Facebook page, More of Beck's Best: Theater, Cabaret and More! If you missed the first two Winter preview shows, you have one more chance to see them this Summer: on Saturday, August 12th at 7:30 pm in The Red Room. Get your tickets now at act2pv.com.
Emperatriz Valles' "Libre" is a Huge Hit!
Thursdays, August 17 & 24 at 7:30 pm
"The show not to miss this summer!" - Gary Beck
Emperatriz made her fabulous debut in The Red Room on Thursday, July 6, to a very excited and welcoming audience, and she was rewarded with a standing ovation! Her second show on July 13th was equally as good, if not better! Venezuelan recording artist Emperatriz Valles is the winner of
Voice of Vallarta
2017, and is also a member of the now-famous musical group, "Trinity," which is comprised of the winners of Voice of Vallarta for 2015, 2016 and 2017.
Emperatriz is a native of Ciudad Bolívar, Venezuela, where she had a very successful career as a recording artist. Last year, she and her family moved to Puerto Vallarta, and Emperatriz was excited to learn about The Voice of Vallarta competition. She was an impressive contestant with a rich, velvety tone and soulful performances that captivated audiences and made her the undeniable winner of the entire competition!
In her cabaret show, Emperatriz performed alongside her famous husband, Alejandro Alcalá, who accompanied her on the acoustic guitar. She performed many Latin songs, some of them originals, that she had recorded in Venezuela. Emperatriz thrilled the audience with her incredible vocals and we look forward to working with her again in the future! For more information or to buy tickets, please go to act2pv.com.
Kids Drama Camp Comes To Act II
Week 1 August 7-12 (ages 10-17)
For the very first time Act ll will be hosting a summer drama camp for kids! Join members of the Act II creative team for a fun filled week of theatrical proportions. Camp members are introduced to the process of creating their own show by learning parts of a hit Broadway musical, constructing their own costumes and set pieces, then rehearsing and performing the way the professionals do it. Top the week off with drama games and a spot in a real-live show including some of Vallarta's favorite entertainers, and it will be a memorable wind-up of the summer for children and tweens/teens. For more information about this program and how to register please email Maria Rose at maria@soldbymaria.ca.
Coming to Act II Stages
"Who's That Girl?"
Starring Vallarta favorite, Kami Desilets
Thursday, August 31 at 7:30 pm • Sept. 2 at 7:30 pm • Sept. 7 at 7:30 pm
Many people will remember Vallarta Favorite, Kami Desilets, who swooped into Puerto Vallarta last year and WOWED Puerto Vallarta as "Kate Monster" in the hit musical, Avenue Q. During the Avenue Q run, she also played the lead in Act II's stage play, 39 Steps, and in the musical, They're Playing Our Song. While she was at it, she also entertained theater-goers, singing every week in the Encore Lounge! Well, Kami is back in town... for good! And now, Act II is excited to feature the fabulous Kami in its final Spotlight on Vallarta summer series cabaret show, "Who's That Girl?" In her cabaret show, Kami will change from "girl next door," to "rockabilly rebel," to "underground cabaret seductress," all in one brand new show! Her show also features live vocals and guest appearances from some of your favorite "Broadway leading ladies!" This show is sure to be a LOTS of fun and filled with energy! It is not to be missed! Tickets will soon be available at act2pv.com.
More Summer Fun at Act II Entertainment
Bob's Famous Karaoke Party
Every Wednesday Night
Join us every Wednesday evening for the most fun of the week! Drink specials run from 6:00 pm till 9:00 pm, with Free Karaoke starting at 8:00 pm. Our beautiful Encore Lounge is air-conditioned, and we feature the best Karaoke in town! It's the place where all of your favorite singers from your favorite shows come to sing with the locals. It doesn't matter if you are scared to get on the stage, if you're not a good singer, or if you just want to come and listen to others sing, come this Wednesday evening and join your hosts, Alfonso Lopez, Maria Rose and Marsha Ross for a night of great fun! Bob's Karaoke is THE PLACE to meet and greet other people, and to get to know your fellow PV expats.
The Opening Night Season Tickets Pass Goes on Sale September 1st
The most sought-after hot ticket item is the ACT II OPENING NIGHT PASS, which allows pass holders to be a part of the opening night magic, and includes:
» 30+ Opening Night Shows at a discount of up to 50%!
» All Opening Night Parties
» VIP seating
The VIP OPENING NIGHT PASS Holder is even better! You will get first seating all year long, as well as discounts at the Bar.
So, if you'd like to be a part of Act II's "in" crowd, register with Act II Entertainment today! It's easy. Go to the Act II Facebook group page and LIKE the page. After that, ask to put into the VIP group. You will be contacted when the passes go on sale. (Only 50 passes are sold each year, and the first 30 passes are already reserved - so act fast!)

Tickets to all shows can be purchased online at actiientertainment.com, or at the box office, which opens at 4 pm on show days. Don't have a credit card? Now you can buy your tickets through Cupocity at OXXO!
The Act II Entertainment STAGES complex is located on the corner of Insurgentes and Basilio Badillo on the South side of Puerto Vallarta. For more information, call (322) 222-1512, or follow Act II on Facebook. Click HERE to see what else is playing at Act II STAGES.