Puerto Vallarta, Mexico - Last week Puerto Vallarta Mayor Arturo Dávalos Peña once again demonstrated the sensitivity and solidarity that his government maintains towards Vallartenses by personally delivering bed frames and mattresses to twenty-two families in Ixtapa whose homes were affected by recent heavy rains.
Before the beds were delivered, the Civil Protection & Fire Department and the Social Development Directorate surveyed and evaluated area. "We are a government of solidarity, which means that when something happens to our citizens, our people, it affects us, too. That's why, today, we are responding to your needs and fulfilling promises," said the mayor to the residents of Villas Ixtapa, Los Tamarindos and Jardines Ixtapa who suffered damage to their property after heavy rains flooded their homes.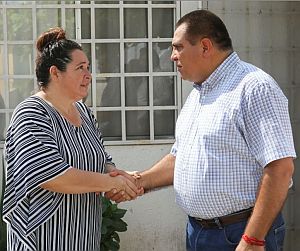 Families in the area gratefully acknowledged the support provided by the government, which they said was immediate and had never been seen before. "It seems excellent to us because we have not seen it from previous governments, and people didn't expect it. In fact, when Civil Protection came to check on us immediately after the flood, we were very surprised. Our neighbors weren't expecting it either. They asked, 'What? The [city] government [is helping us]?' and 'they came that fast?' ...that's why we are so impressed and are so happy," said Sr. Oscar Luis Angelito.
Sra. María del Carmen Caloca González thanked the Mayor of Vallarta for this show of solidarity with those who suffered some damage or loss in their homes. "The truth is we were very shocked by this noble gesture by the municipal president because [when elected] he effectively told us that he would be there to support us, but honestly, one often hears many promises that are seldom fulfilled."
Likewise, María Guadalupe Ramírez González acknowledged the support provided by the government of Arturo Dávalos. "It is good that they take us into account, that they support us, because before [this administration] when things got damaged we did not receive any help... but I've noticed that many things have been improved [on Dávalos' watch], which makes us happy and grateful. They have already been a tremendous help [in this instance] because in this economy it is very difficult to fix or replace things that are damaged or lost..."
The Mayor, who was accompanied by other city officials and collaborators as well as the Ixtapa delegate, Gabriela Duarte Becerra, took the opportunity to not only supervise the works that were being carried out in this delegation, but also to lend a hand in the delivery of the news beds.
Press release translated and edited by Marie Callan for BanderasNews.com.