Puerto Vallarta, Mexico - Award-winning Mexican contemporary favorite, No Way José! Restaurant/Bar invites you to celebrate opening their doors in La Zona Romantica for Season 9 on Saturday, October 14, 2017.
Join one of the most charming service teams in La Zona as they gear up to serve up some of your favorite dishes and cocktails, including the house signature dish Chiles en Nogada, the only tableside-prepared Caesar salad in La Zona, and the original Hot Chile Love margarita.
"We always enjoy our annual summer vacation," shares Jose Alfredo Gonzalez. "The whole team is now ready to come back! We miss our family of friends and we are eager to welcome everyone back home to Tu Casa en Vallarta on Saturday, October 14. We have some great surprises in store for this season, so we hope to see you on our opening day."
Enjoy air-conditioned comfort in a casual bar setting in the downstairs Cantina or the romantic NWJ! terrace under the Vallarta sky as you catch up with friends or meet new ones while enjoying delicious Mexican contemporary cuisine in one of the most complete dining experiences in La Zona Romantica. Feel like you're in Mexico when you're in No Way José!
It wouldn't be a fiesta with local Latin favorites, Piel Canela, providing entertainment starting at 8:00 pm. So make your reservations now for a classic No Way José! fiesta and usher in Season 9 with a night of food, friends, and fun in the NWJ! style.
No Way José! continually strives to rally its family of friends around causes to benefit residents and visitors to Puerto Vallarta. Mexico is still reeling from the powerful 7.1 earthquake that killed over 200 and left thousands homeless on September 19, 2017. This latest quake shook Mexico City 32 years to the day after the 1985 "big one" that left thousands dead and CDMX flattened.
This year a portion of No Way José!'s proceeds from their opening night will go to benefit survivors and help in the rebuilding efforts that will continue for months, and perhaps years, to come.
"We feel strongly about helping those who were tragically effected by the CDMX earthquake," says Julie Guerrero. "We ask all of our family of friends to join us on October 14 for a fun evening. The more fun we have, the more we can donate. We are vetting the organizations to make sure we are working with the most transparent and grass-roots organizations helping our México lindo y quierido."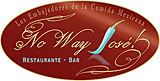 No Way José! is located on the south side of downtown at 5 de Febrero 260, just over the Vallarta street bridge on your left heading south from the Malecón. Open Tuesday-Sunday from 4:00 pm to 11:00 pm. Reservations are recommended and available by calling (322) 223-2853 or online at NoWayJoseMx.com. For more information, visit NoWayJoseMx.com, or join us on Facebook for real-time updates and special offers.

Click HERE to learn more about No Way José!