Puerto Vallarta, Mexico - Want your holidays to be filled with laughter and good cheer? Then head over to the south side of Puerto Vallarta, where Act II Entertainment's STAGES has a full line-up of music, theater and fun in the Red Room Cabaret, on The Main Stage, and in the Encore Lounge that will make the season a little brighter!
In keeping with the holiday spirit, Act II Entertainment is also giving everyone the opportunity to have a great time while helping the less fortunate through a special toy drive and donation program.
On December 20th, Act II Entertainment will present a special production of It's a Wonderful Life. Bring an unwrapped toy for 'Christmas at the Dump,' organized every year by Puerto Vallarta resident and last year's Act II 'Person of the Year,' Freda Thompson. As this is a local Christmas tradition that brings joy to underprivileged children, Act II will also donate 100 pesos for every ticket sold. Get your tickets today at act2pv.com, and help us show these kids how wonderful life can be.
PLAYING THIS WEEK AT ACT II STAGES
Friday, December 15
"The Eric Clapton Show" starring César Medina at 5:00 pm
Eli Estrada in the Encore Lounge (No Cover) at 6:00 pm
"The Linda Ronstadt Show" starring Brittany Kingery, 7:30 pm
Puerto Vallarta Gay Men's Chorus "Christmas Potpourri" 8:00 pm
Darienne Lake & Mrs. Kasha Davis "Bosom Buddies" Opening Night Party 8:30 / Show 9:30
Saturday, December 16
Live music in Encore (No Cover) 6:00 pm
"Rocky Horror Show" at 7:00 pm
Diana Villamonte, "Motown & Beyond" 7:30
Delighted Tobehere, "Drag 101" 9:30 pm
Sunday, December 17
Yara Di Leo in Encore (No Cover) 6:00 pm
Paul Fracassi "Legends" at 7:30 pm
"Bosom Buddies" at 9:30 pm
Monday, December 18
"The Eric Clapton Show" at 5:00 pm
Emperatriz in Encore (No Cover) 6:00 pm
B. Kingery "Little Miss Sunshine" 7:30 pm
Mama Tits, "Big and Loud" at 9:30 pm
Tuesday, December 19
Emperatriz in Encore (No Cover) 6:00 pm
"Rocky Horror Show" at 7:00 pm
Noemi & Daniel, "Us Two" at 7:30 pm
"Bosom Buddies" at 9:30 pm
Wednesday, December 20
Eli Estrada in Encore (No Cover) 6:00 pm
"It's a Wonderful Life" at 7:00 pm
Paul Fracassi, "Walk Like A Man" at 7:30 pm
Mama Tits, "Big and Loud" 9:30
Thursday, December 21
Emperatriz in Encore (No Cover) 6:00 pm
"Rocky Horror Show" at 7:00 pm
Noemi & Daniel, "Us Two" at 7:30 pm
Delighted Tobehere, "Drag 101" 9:30 pm
OPENING THIS WEEK AT ACT II STAGES
"Bosom Buddies"
Featuring TV's 'RuPaul Drag Race' stars Darienne Lake and Mrs. Kasha Davis
Opening Night, Friday, December 15 - Party 8:30 / Show - 9:30 pm
December 17, 19, 22, 24, 26 at 9:30 pm
For the first time in Act II "her-story," we have TWO
RuPaul Drag Race
superstars, Darienne Lake and Mrs. Kasha Davis performing together on our stage! RuPaul's Drag Race is a very popular American reality Television series that is on the search for "America's Next Drag SuperStar!" with a panel of judges critiquing the contestants' progress throughout the competition.
Darienne Lake is from Rochester, NY. She was a top 4 finalist from Season 6 of the RuPaul show. When she was deciding what drag name she should use, many thought her name should be Tracy Turnblad because she kind of looked like Ricki Lake from Hairspray. She didn't want to use someone else's name, so her friend suggested Darien Lake (Ricki Lake's love child with the amusement park outside Buffalo, New York). She thought, "Well, I am two tons of fun," so she spelled her new name Darienne Lake! Known for her sense of humor, Darienne loves hosting shows, vaudeville and telling jokes!
Mrs. Kasha Davis is also from Rochester, NY. She is married to "Mr. Davis, and calls herself "RuPaul's First Housewife." She bakes the perfect apple pie and makes a mean martini without ever messing up her hair. A contestant on Season 7 of RuPaul, she got eliminated early on, but got bonus points for her impromptu Joan Rivers impression during the show's mini-challenge. She loves doing cabaret shows, and is known for sharing glimpses into her life through a myriad of classic songs and stories.
What a Fabulous Pair! Together, Bosom Buddies Darienne Lake and Mrs. Kasha Davis, are dynamite on The Red Room stage! Their mixture of velvety smooth vocal stylings, wisecracks, and spot-on lip synchs will keep you in stitches from start to finish. This is a once-in-a-lifetime opportunity to see "her-story" in the making at Act II Stages!
CONTINUING SHOWS AT ACT II STAGES
The Rocky Horror Show
A Musical Comedy Fiction Horror Stage Play
Tuesdays, Thursdays and Saturdays at 7:00 pm
The Rocky Horror Show is now playing to packed audiences and rave reviews! This ultra-campy cult classic has taken Vallarta by storm and is a humorous tribute to the science fiction and horror B movies of the late 1940s through the early 1970s. It tells the story of a newly engaged couple getting caught in a storm and coming to the home of a mad transvestite scientist, Dr. Frank N. Furter. It is hilarious, gripping and haunting, all at the same time. Many in the audiences have come clad in their favorite cult "Rocky" garb, and everyone loves the audience participation of shout-outs and props. This incredible show is directed by the amazing and talented Alfonso López, with choreography by Kami Desilets. This is a "must see" event in Puerto Vallarta! After you have seen it once, you will talk about it for the rest of your life!
César Medina, "The Eric Clapton Show"
Every Monday & Friday at 5:00 pm
Local musical sensation, César Medina is excited to present a show, featuring the music of one of his favorite musical legends, Eric Clapton! An experienced and talented musician himself, César has performed alongside many Vallarta celebrities, including Brittany Kingery and Elvis Morales. César takes on one of the world's finest guitarists in this Eric Clapton show and he KILLS it with his incredible guitar-playing! If you love the feeling of I Shot the Sheriff, Tears in Heaven, Sunshine of Your Love, and other classics, this is a perfect blend of songs that you love and the fresh sound of classic blues!
"The Linda Ronstadt Show"
Featuring Brittany Kingery
Shows Every Friday at 7:30 pm in The Red Room
Do you remember these songs? Blue Bayou... You're No Good... Poor, Poor, Pitiful Me... Just One Look... Alison... Heatwave... It's So Easy... Desperado? Every Friday evening, the lovely Brittany Kingery presents her sensational tribute to the timeless music of living legend, Linda Ronstadt. Her opening night of "Hasten Down The Wind" became the biggest selling show in the history of The Red Room and was moved to the Main Stage, which also sold out. Both of Brittany's shows continue to be among the main attractions of the Puerto Vallarta entertainment scene. Act II is happy to have Brittany "home" and performing on The Red Room stage!
"Christmas Potpourri"
Puerto Vallarta Gay Men's Chorus Holiday Concert
One Show Left! - Friday, December 15 at 8:00 pm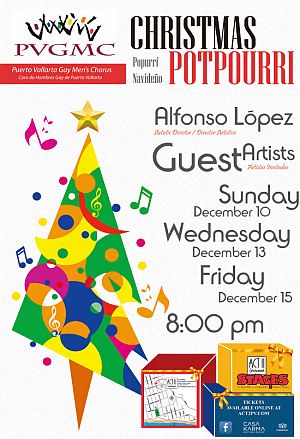 The Puerto Vallarta Gay Men's Chorus (PVGMC), directed by Alfonso Lopez, presents "Christmas Potpourri," its annual holiday musical celebration on December 10, 13 & 15 at Act II Stages. The chorus will present a merry mixture of traditional Mexican, American and Canadian carols, as well as some beloved sacred music, Hanukkah songs and fun pop songs. The PVGMC chorus uses the talents of gay men from Mexico, the United States and Canada. They perform choral music that entertains, enlightens and unifies the audience, as well as its members, while building bridges of greater understanding, acceptance and love between communities, cultures, families, and friends. They are warmly embraced by the local Mexican and Ex-Pat community, as well as tourists of both cultures. This time of year brings back recollection of some of the most memorable times spent with family and friends. Buy your ticket today at act2pv.com and celebrate the most magical season of the year with the PVGMC! And you might want to brush up on some of your favorites so that you can sing along!
"Motown and Beyond"
Starring Diana Villamonte
A Musical Tribute to the Great Ladies of Motown and Beyond
Saturdays at 7:30 pm in The Red Room
The amazing Diana Villamonte wowed the audience at the Saturday, November 11th debut of her highly-anticipated Red Room Cabaret Show for the winter season, "Motown and Beyond!" Belting out a musical tribute to the great ladies of Motown and Beyond, such as Diana Ross, Shirley Bassey, Whitney Houston, Anita Ward, Etta James, Nina Simone, Aretha Franklin and Donna Summer, this young lady is one of the most talented people that has ever crossed The Red Room stage! After a sold-out preview of her show this past summer, she was described as "powerful, charming, beautiful, stunning, polished, mesmerizing and stunning." She blew the audience away again with her huge vocals and passionate interpretations. Diana is a reality TV star/musician in Central America, and she already has a huge fan base here in Puerto Vallarta. We are beyond excited that she has agreed to perform here at Act II, so we invite you to get your tickets now for one of her shows. We promise you, you will never forget her!
Delighted Tobehere in "Drag 101"
December 16, 21, 23 at 9:30 pm
Delighted Tobehere will leave nothing to the imagination as she reveals ALL of drag's best kept secrets! She'll pull from her more than 16 years of experience to give you a behind-the-scenes look at the world of drag! Personal stories, gossip, pro tips, how to's, audience participation, side-splitting comedy, and yes... 100% LIVE singing entertainment! The judge's loved her on America's Got Talent, Pam Ann thinks she's hilarious, and YOU loved her last season... so, SHE'S BACK! Don't delay - Get your tickets today! You'll be Delighted you did!
"Legends" special tribute to Roy Orbison
Featuring Canadian Idol Finalist, Paul Fracassi
Performing every Sunday at 7:30 pm
Paul Fracassi's "Legends" is a stunning tribute to some of his favorite singers, including Elvis Presley, Frankie Valli, Frank Sinatra, Davy Jones, Buddy Holly, Bobby Darin and more. You will definitely find yourself singing along and swaying in your seat to this memorable music. The consummate performer, Paul bounds onto the stage and effortlessly reaches soaring high notes that chills and thrills his audience. He has added new excitement to his shows with backup singers and Vegas-style costumes that complement his engaging delivery.
"Little Miss Sunshine"
Starring Brittany Kingery
Every Monday at 7:30 pm in The Red Room
Brittany Kingery, the "Darling of Vallarta" (and chart-topping, award-winning vocalist extraordinaire) brings her sweet, soaring voice and all-live band to Act II every Monday evening at 7:30 pm. Originally from Washington state, now residing in Vallarta, Brittany is in her THIRD season at ACT II. She is a four-time award-winning vocalist who has followed her dreams. She is a five-time Troprock Music Award winner, winning Female Vocalist of the Year in 2015 and 2016 and 2017, Song of the Year in 2015 and the Horizon Award in 2015. She has released two CDs of her original tropical-inspired music, Edge of the Ocean (2013) and Dream in Blue (2014), and she spends the summer months performing in the United States and Canada.
"BIG AND LOUD"
Starring drag diva, Mama Tits
Every Monday & Wednesday Night at 9:30 pm
In this all-new drag show, "BIG & LOUD," Mama Tits is guaranteed to take you on a wild journey, complete with incredible live singing, hilarious stories, and side-splitting comedy! This year, Mama Tits has turned things up a notch, too, by adding live accompaniment! Mama Tits is one of the top drag divas of Puerto Vallarta and Seattle, with sold-out shows almost every night. Known for her buttery smooth voice and soulful blues sound, her shows have become a notorious "destination," forever changing drag cabaret entertainment!
"UsTwo - New Voices, Old Beats"
Starring Daniel Celis & Noemi Plascencia and band
December 19, 21 at 7:30 pm
December 26, 28 at 5:00 pm
Us Two takes its place as the number one musical group in Puerto Vallarta, with a hugely successful show twice every week! Puerto Vallarta has fallen in love with this smashing duo with the soft, sexy beat and harmonious vocals. As soon as they open their mouths, audiences are mesmerized. Daniel and Noemi sing re mastered arrangements of classic favorites, from bands such as Mamas and Papas, Abba, Beatles, Journey, Cat Stevens, Culture Club, Air Supply, and many more. People are raving about the absolute beauty of their sound.
"This duo is an absolute must to see... high energy, intimate, sensual... all that is needed to make their show incredibly enjoyable... it is a show you can see over and over without ever tiring of it... they've put everything they have into it....not to be missed...." (Robert D, TripAdvisor)
"2017 is going to be a great season! We have seen Us Two and Rocky Horror. Both are must see shows. There will be other opening shows. Be sure to add this venue to your vacation in PV. If you live here, it is the perfect spot to meet up with your friends." (PamofOak, TripAdvisor)
"Smash Hit of our town! This is a must, must see!" (Gary Beck of Beck's Best)
"There is only one word that comes to my mind about Ustwo Daniel Noemi and their amazing performance last night in The Red Room Cabaret. "Phenomenal! (David Wilhoit, Puerto Vallarta)
"It's a Wonderful Life!"
Presented as a live, 1940s radio broadcast
Just 3 shows left! December 20, 24, 27 - 7:00 pm (Main Stage)
It's a Wonderful Life is one of the most well-known and heartwarming Christmas stories ever! It is the story of an angel that is sent from Heaven to help a desperately frustrated businessman by showing him what life would have been like if he had never existed. Act II will bring this beloved American holiday classic back to life as a live 1940s radio broadcast! Featuring some of Puerto Vallarta's favorite actors, It's a Wonderful Life's original twist, clever use of props, entertaining voices and a love story that you want to see over and over again, creates a fresh and inventive way of reconnecting with a classic story of love and redemption.
Paul Fracassi: "Walk Like a Man"
Performing every Wednesday at 7:30 pm
This "Jersey Kid" from Toronto, Canada, managed to create a big fuss up in Canada as a finalist in Canadian Idol. Shortly thereafter, he created a "big fuss" in Puerto Vallarta, too, as we fell in love with this wonderful, new singing sensation! He has become an international star and is much in demand in Mexico, Canada, the U.S., and Europe. Paul's vocal range has been compared to the great crooners of the American songbook, and especially the high vocal range of Frankie Valli. It is no wonder that this artist chose to present the music of The Four Seasons for his show, including Dawn, Rag Doll, Can't Take My Eyes Off of You, and Walk Like a Man. Paul handles the Frankie Valli songs as if Frankie Valli himself was on stage singing them in his early years on The Ed Sullivan Show!
Act II is very excited about the 2017-2018 season! Featuring 45 different shows, many of Vallarta's favorites have already returned to our stages, but there's also some hot, new surprises in store! For a complete description of all our upcoming shows, go to act2pv.com.

Tickets to all shows can be purchased online at actiientertainment.com, at the box office, which opens at 10 am on show days, or at the 2nd Box Office location, across the street from Garbos on Pulpito Street in the Romantic Zone.
The Act II Entertainment STAGES complex is located on the corner of Insurgentes and Basilio Badillo on the South side of Puerto Vallarta. For more information, call (322) 222-1512, or follow Act II on Facebook. Click HERE to see what else is playing at Act II STAGES.