Puerto Vallarta, Mexico - No Way José! never disappoints with a unique Christmas menu to delight their loyal family of friends and impress anyone new to the Zona Romantica's favorite Mexican contemporary restaurant. La Cocina de Amor presents a 4-course menu for only $899 per person, with options to substitute the special menu entree with your favorite Chiles en Nogada or other favorite.
Christmas Menu at Tu Casa en Vallarta
Soup
La Reina - Cream of Carrot Soup with an essence of cinnamon and agave oil.
Salad
Ensalada Feliz Navidad - Calamar salad stuffed with turkey ham, fresh vegetables and Panela cheese from El Tuito, served on a bed of romaine and zucchini strips tossed in a vinagrette of sesame seeds and pine nuts with a touch of mint.
Main Course
Surf-n-Turf - Beef medallion with grilled octopus served with a cilantro vinagrette and mashed potatoes with mezcal-caramalized vegetables.
Dessert
Ricotta Mousse - Served with a passionfruit sauce and raicilla eggnog and red berries.
You may substitute any of your favorite NWJ! dishes below for the special menu's salad or main course.
Salad
• Ensalada Frida - Warm pear slices, mixed greens, goat cheese with red fruit vinaigrette
Main Courses
• Filete Chaman - Beef filet in 3-chili sauce served on a bed of garlic-sauteed mushrooms
• Pollo Xochimilco - Chicken breast stuffed with cheese, garlic-sauteed spinach & mushrooms, in huitalacoche (corn truffle sauce)
• Chiles en Nogada - Poblano peppers stuffed with ground beef and mixed sweet fruits, bathed in a creamy pecan & almond sauce and garnished with pomegranate seeds
• Torre Chapultepec - Grilled portobello mushroom au gratin stacked with eggplant, mixed peppers, zucchini, plantain & tomato with olive oil in a red fruit sauce
On Christmas Eve, No Way José! warmly welcomes Piel Canela from 8-10 pm to entertain us in the true holiday spirit. A family celebration would not be complete without them!
The Christmas Menu will also be available on Monday, December 25.
Click HERE to make your reservations now to enjoy a special night of food, friends and fun on one of our favorite nights of the year.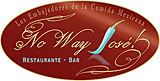 No Way José! welcomes you to La Zona Romantica on the south side of Vallarta at 5 de Febrero 260, just over the Vallarta street bridge on your left heading south from the Malecón. Open 7 days a week from 4:00 pm to 11:00 pm. Reservations are recommended and available by calling (322) 223-2853 or online at NoWayJoseMx.com. For more information, visit NoWayJoseMx.com, or join us on Facebook for real-time updates and special offers.

Click HERE to learn more about No Way José!