Puerto Vallarta, Mexico - Say "adios" to 2017 with another stellar Mexican contemporary menu from No Way José! featuring not only a succulent Surf-n-Turf Filet Mignon and Lobster, but also for our vegan friends the presentation of our newest plant-based entree, the Rainbow Tower: a vegan delight of sauteed eggplant, cactus, red peppers, and plantain layers on a bed of quoina scented with mint, agave honey and spinach in a red pepper sauce.
Join us as we welcome 2018 on the Terrace with live musical entertainment, celebration kit, 12 grapes at midnight and the traditional fiesta energy found only at No Way José!
$1549 pesos per person.
New Year's Eve Menu - Menu de Año Nuevo
• Soup/Sopa:
Beautiful Wish - Lobster bisque with corn truffles decorated with rose petal confetti
Bonito Deseo - Bisque de langosta con trufas de huitlacoche y confetti de petalos de rosa.
• Salad/Ensalada:
Christmas Eve Salad - baby greens with a toasted pecan vinagrette decorated with crispy beet strips on a puff pastry bed
Ensalada Noche Buena - lechugas mixtas con vinagreta de nuez tostada con tiras de betabel en una cama de pasta sablé
• Sorbet Surprise/Sorbete de Sorpresa
• Main course your choice of: - Plato Fuerte a eligir:
2018: Lamb chops provencal served on a bed of garbanzo mash with a Tuito-cheese stuffed nopal and agave-caramelized asparagus in a chile guajillo scented mint sauce
El Diez y Ocho: Rack de Cordero provencal servido sobre una cama de pure de garbanzo con un nopal relleno de queso mixtos del Tuito y asparago caramalizadas en mermelada de agave en una salsa delicada de chile guajillo con un toque de menta.
Surf-n-Turf: Beef medallion served in NWJ!'s original raicilla sauce with a grilled lobster tail and sauteed in lemon and olive oil spinach.
Mar y Tierra: Medallon de res servido en la salsa original de raicilla de NWJ! acompañado con langosta parillada con ensaladas de espinacas con vinagreta de limon real.
A New Beginning: Red snapper filet and jumbo shrimp served with strips of in-season vegetables on a bed of anise-scented sauteed purslane in a passion fruit and citrus sauce.
El Nuevo Inicio: Filete de Hauchinango y Camaron con tiras de vegetales de temporada sobre una cama de verdolagas salteadas aroma de anise y salsa de citricos y maracuya.
Rainbow Tower: Vegan delight of eggplant, cactus, red peppers, and plantain layers on a bed of quoina scented with mint, agave honey and spinach in a red pepper sauce.
Torre Arcoidis: Especial vegano de capas de berenjena, nopal, pimientos, y platano macho en una cama de quoina aromatizada con menta, miel de agave, y espinaca sobre una salsa de morron rojo.
• Dessert/Postre:
My Ornament - Chocolate mousse-filled caramel orb
Mi Esfera - Esfera de caramelo relleno de mousse de chocolate
Click HERE to make your reservations now to enjoy a special night of food, friends and fun on the last night of the year.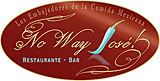 No Way José! welcomes you to La Zona Romantica on the south side of Vallarta at 5 de Febrero 260, just over the Vallarta street bridge on your left heading south from the Malecón. Open 7 days a week from 4:00 pm to 11:00 pm. Reservations are recommended and available by calling (322) 223-2853 or online at NoWayJoseMx.com. For more information, visit NoWayJoseMx.com, or join us on Facebook for real-time updates and special offers.

Click HERE to learn more about No Way José!