Puerto Vallarta, Mexico - Act II Entertainment brought 2017 to a close with more sold out shows than ever before, and 2018 is off to a great start, with four more Opening Nights this week! The fun starts on Saturday at 6:00 pm with an Opening Night Party for the highly-anticipated Broadway Musical/Comedy, Xanadu!
Also, Paul Fracassi opens his third weekly show, Stayin Alive, a tribute to the 70's musical group, The Bee Gees, and, on our Main Stage, the wonderful Rhonda Padmos and Don Pope open their new show, Woodstock '69, a musical tribute to the women of Woodstock. Finally, the award-winning and highly acclaimed singer/songwriters, Matt Zarley and Jeb Havens return to the Red Room on January 8.
PLAYING THIS WEEK AT ACT II STAGES
Friday, January 5
"Legends," featuring Paul Fracassi – 5:00 pm
"The Linda Ronstadt Show," starring Brittany Kingery – 7:30 pm
"Hedda Lettuce," starring six-time Drag Queen of the Year Hedda Lettuce! – 9:30 pm
Saturday, January 6
"Us Two," Noemi & Daniel at 5:00 pm
"Xanadu" Opening Night – Party 6 / Show 7
"All American Boy," Steve Grand at 7:30 pm
"Sutton Lee Seymour" at 9:30 pm
Sunday, January 7
"Woodstock '69" Opening Night - 7:00 pm
"Stayin' Alive," Opening Night – 7:30 pm
"Dueling Drag Divas" at 9:30 pm
Monday, January 8
B. Kingery "Little Miss Sunshine" 5:00 pm
"Some Enchanted Evening" at 7:00 pm
"Matt Zarley/Jeb Havens" Opening Night 7:30
"Big and Loud," starring Mama Tits - 9:30
Tuesday, January 9
"Hedda Lettuce" at 5:00 pm
"Xanadu," A Broadway Musical at 7:00 pm
"Like, Totally 80's" at 7:30 pm
"Sutton Lee Seymour" at 9:30 pm
Wednesday, January 10
"Big and Loud," Mama Tits at 5:00 pm
"Xanadu," A Broadway Musical, 7:00 pm
"Walk Like a Man," Paul Fracassi, 7:30 pm
"Dueling Drag Divas" at 9:30 pm
Thursday, January 11
"Motown & Beyond," Diana Villamonte, 5:00
"Rocky Horror Show" at 7:00 pm
"Matt Zarley & Jeb Havens" at 7:30 pm
"Hedda Lettuce" at 9:30 pm
SHOWS OPENING THIS WEEK AT ACT II STAGES
"Xanadu" - Opening Night Saturday, Jan 6 - Party 6:00 pm / Show 7:00 pm
Broadway Musical based on the 1980's movie with Olivia Newton-John
(Opening Night) January 6 at 7:00 pm
January 9, 10, 13, 16, 17, 20, 23, 24, 27, 30, 31 – 7:00 pm
February 3, 10, 13, 14, 17, 20, 21 – 7:00 pm
Xanadu is the irresistible Broadway Musical/Comedy that is based on the 1980 cult classic film of the same name. This Tony Award-nominated, roller skating, (yes, there are roller skates!) musical adventure about following your dreams is hilarity on wheels for adults, children, and anyone who has ever wanted to feel inspired. Xanadu follows the journey of a magical and beautiful Greek muse, Kira, who descends from the heavens of Mount Olympus to Venice Beach, California in 1980. She is on a quest to inspire a struggling artist, Sonny, to achieve the greatest artistic creation of all time – the first ROLLER DISCO! (Hey, it's 1980!) But, when Kira falls into forbidden love with the mortal Sonny, her jealous sisters take advantage of the situation and chaos abounds. Xanadu is a moving, electrifying tale of endless fun that will keep you in stitches, while the original, legendary, chart-topping tunes will lift your spirits. You will want to keep the music in your head and Xanadu in your heart... forever.
"Stayin' Alive" - Opening Night January 7 - Party 6:30 pm - Show 7:30 pm
Starring Paul Fracassi
A musical tribute to The Bee Gees (and other great falsetto singers)
Every Sunday at 7:30 pm
Paul Fracassi, one of Act II's most popular and talented headliner artists, has created a brand-new show called
"Stayin' Alive,"
a tribute to one of his favorite 70's groups, The Bee Gees! Paul is the consummate performer! This "Jersey Kid" from Toronto, Canada, bounds onto the stage and effortlessly reaches soaring high notes that send chills and thrills throughout his audience. Paul managed to create a big fuss in Canada as a finalist in
Canadian Idol.
Shortly thereafter, he created a "big fuss" in Puerto Vallarta, too, as we fell in love with this wonderful, new singing sensation! His signature high notes have helped him create an amazing likeness to music of The Bee Gee's. You will definitely find yourself singing along and swaying in your seat to the sounds of The Bee Gee's beloved music.
"Woodstock '69"
Featuring Rhonda Padmos and Don Pope
A tribute to the women of Woodstock
Opening Night Jan 7, Party 6:30/Show 7:00
Every Sunday at 7:00 pm
The uber-talented musical duo of Rhonda Padmos and Don Pope have created a brand-new show this season that's sure to bring back lots of memories! It's called Woodstock '69, a festival of LIVE MUSIC and peace, featuring the music of the unforgettable women of Woodstock... Janis Joplin, Joan Baez, Grace Slick, Melanie, and Nancy Evins.
It also features the music of Jimmy Hendrix, Ritchie Havens, Sweetheart, Arlo Guthrie, Carlos Santana, Country Joe MacDonald, The Who, Ravi Shankar, Jefferson Airplane, Creedence Clearwater Revival, Joni Mitchell, Crosby, Stills, Nash and Young, and Bob Dylan, and The Band! Rhonda and Don are incredible musicians!
Currently, in their 5th season at Act II with shows like California Dreamin' (Mamas & Papas), Come Together (Beatles tribute), Rumors (Fleetwood Mac tribute), The Rocky Horror Picture Show, Sordid Lives, A Chorus Line and Tapestry (music of Carole King), Rhonda and Don have a huge following, and their shows are much loved and anticipated at Act II Stages!
"Matt Zarley and Jeb Havens"
Internationally-acclaimed duo presents self-penned pop tunes and classic covers
Opening Night Monday, January 8 - Party 6:30 / Show 7:30 pm
January 11, 15, 18, 22, 25, 29 at 7:30 pm
January 14, 21, 28 at 5:00 pm
Four-time Billboard Charting recording artist and Two-time OutMusic Award winner, Matt Zarley, and acclaimed singer/songwriter, Jeb Havens, join forces for an evening of self-penned pop tunes and classic covers. Zarley is one of the first openly-gay men to be named one of People Magazine's "Top 50 Bachelors."
Matt started his career at age 12, performing in commercials, and eventually appearing in many musicals on Broadway, including
A Chorus Line, Chicago, Joseph and the Amazing Technicolor Dreamcoat,
and The Who's
Tommy.
He has had the pleasure of appearing with Whitney Houston, Reba McEntire, Chaka Khan, Vanessa Williams, Brandy, Usher and Olivia Newton-John, among many others. His 2012 album, "Change Begins with Me," inspired by a difficult break-up with a well-known actor (whose identity he refuses to reveal), received almost unanimous acclaim. It was hailed as "inspiring, passionate, powerful, dreamy, soulful and impressive." A single from that album, "WTF," became Matt's 3rd Billboard hit and the music video became an internet cult classic and viral sensation. That album received the 2012 OutMusic "Album of the Year" and "Single of the Year" awards!
In 2015, Zarley released hopefulROMANTIC, an original musical film about one man's emotional journey through love, heartbreak and healing, and featured Star Trek star and LGBT activist, George Takei. It was chosen as an official selection by dozens of film festivals around the world, including Cannes Short Film Festival, SHOUT! LGBT Film Festival, Mumbai International Queerfest, Palm Springs LGBT Film Festival, Hollywood Reel Independent Film Festival, and many more.
Zarley has joined forces with his friend and colleague, Jeb Havens, an international recording artist and songwriter, whose music is a blend of catchy pop and raw emotional therapy. His YouTube videos (many shot in the closet) have been viewed over 650,000 times, and captured the attention of Reddit, BuzzFeed, and the TV show, Right This Minute. Jeb has a wonderful sense of melody, a vulnerable, passionate voice with concise phrasing, and heartfelt, unique lyrics. His most recent album, "Home Base," was produced by Grammy-winning producer Andy Zulla, and was released February 17th, 2016.
The Matt Zarley and Jeb Havens show is the type of music you will turn to when your spirit needs to soar! Their show will highlight both of their latest album releases, and is sure to showcase their soaring vocals and heartfelt vocals that are so relatable on their recent albums. Act II is so excited to have these amazing musicians on its stage!
CONTINUING SHOWS AT ACT II ENTERTAINMENT
"Legends" special tribute to Roy Orbison
Featuring Canadian Idol Finalist, Paul Fracassi
Every Friday at 5:00
Paul Fracassi's "Legends" is a stunning tribute to some of his favorite singers, including Elvis Presley, Frankie Valli, Frank Sinatra, Davy Jones, Buddy Holly, Bobby Darin and more. You will definitely find yourself singing along and swaying in your seat to this memorable music. The consummate performer, Paul bounds onto the stage and effortlessly reaches soaring high notes that chills and thrills his audience. This season, he has added new excitement to his shows with backup singers and Vegas-style costumes that complement his engaging delivery.
"The Linda Ronstadt Show"
Featuring Brittany Kingery
Shows Every Friday at 7:30 pm
Do you remember these songs?
Blue Bayou
...
You're No Good
...
Poor, Poor, Pitiful Me
...
Just One Look
...
Alison
...
Heatwave
...
It's So Easy
...
Desperado
? Every Friday evening, the lovely Brittany Kingery presents her sensational tribute to the timeless music of living legend, Linda Ronstadt. Her opening night of "Hasten Down The Wind" became the biggest selling show in the history of The Red Room and was moved to the Main Stage, which also sold out. Both of Brittany's shows continue to be among the main attractions of the Puerto Vallarta entertainment scene. Act II is happy to have Brittany "home" and performing on The Red Room stage!
"Hedda Lettuce"
Starring the one-and-only Hedda Lettuce
Storytelling, stand-up comedy & singing
Every Thursday & Friday at 9:30
Every Tuesday at 5:00 pm
Hedda Lettuce, six-time Drag Queen of the Year Award-winner (HX magazine) and the legendary "green goddess" of drag, will glamorize another winter in Vallarta as she dishes out a tossed salad of improvisational comedy, sultry songs, and dazzling gowns. And it's entirely fat-free! She tosses out a night of storytelling, ribald stand-up comedy, and live (not lip-synched) singing. Her show includes her nationally-acclaimed original comedic music peppered with parodies of old-time favorites and startling satire. Expect a night of side-splitting laughter from Hedda Lettuce, one of New York City's premier drag queens.
"UsTwo - New Voices, Old Beats"
Starring Daniel Celis & Noemi Plascencia and band
Every Saturday at 5:00 pm
Us Two takes its place as the number one musical group in Puerto Vallarta, with a hugely successful show! Puerto Vallarta has fallen in love with this smashing duo with the soft, sexy beat and harmonious vocals. As soon as they open their mouths, audiences are mesmerized. Daniel and Noemi sing re mastered arrangements of classic favorites, from bands such as the Mamas and Papas, Abba, The Beatles, Journey, Cat Stevens, Culture Club, Air Supply, and more. People are raving about the absolute beauty of their sound.
"The Rocky Horror Show"
A Musical Comedy Fiction Horror Stage Play
Tuesdays, Thursdays and Saturdays at 7:00 pm
The Rocky Horror Show is now playing to packed audiences and rave reviews! This ultra-campy cult classic has taken Vallarta by storm and is a humorous tribute to the science fiction and horror B movies of the late 1940s through the early 1970s. It tells the story of a newly engaged couple getting caught in a storm and coming to the home of a mad transvestite scientist, Dr. Frank N. Furter. It is hilarious, gripping and haunting, all at the same time. Many in the audiences have come clad in their favorite cult "Rocky" garb, and everyone loves the audience participation of shout-outs and props. This incredible show is directed by the amazing and talented Alfonso López, with choreography by Kami Desilets. This is a "must see" event in Puerto Vallarta! After you've seen it once, you'll talk about it for the rest of your life!
"All American Boy"
Starring Steve Grand
January 6 – 7:30 (Closing Night)
In 2013, Grand uploaded a music video to YouTube for his song, "All American Boy." It immediately went viral, and within 8 days, he had over 1,000,000 views! It tells the story of unrequited love between a young man and his heterosexual male friend. "All American Boy" took the internet by storm when it was released. As a result, this openly gay artist was lauded as a trailblazer in the entertainment world and he has had appearances on Good Morning America, CNN, Larry King Now, and other national outlets where he has used his platform to advocate for Human Rights and LGBT Equality. In his debut show at Act II, Steve will be sharing his incredible story, interspersed with his favorite songs from "All American Boy," some popular covers, and new songs from his upcoming album.
"Dueling Drag Divas"
Starring Emmy Award Winner, Chi Chi Rones and JoAnna
A hilarious evening of all-live singing and comedy
Every Sunday & Wednesday at 9:30 pm
They're BAAAAACK! Emmy Award Winner, Chi Chi Rones, and NY Times-Acclaimed Impressionist, Jo Anna, return to Puerto Vallarta for their 5th season together as
The Dueling Drag Divas.
Their all-new show opened December 31st in The Red Room. This all-live singing and comedy cabaret show is guaranteed to make you laugh! Although both are acclaimed vocal impressionists in their own right, Chi Chi and Jo Anna approach the celebrities they impersonate from different perspectives. Where Jo Anna is the more zany, crazy, campy one, Chi Chi is the more glamorous, legendary diva. Together, they are a force to be reckoned with... a perfect storm.
"Little Miss Sunshine"
Starring Brittany Kingery
Every Monday at 5:00 pm in The Red Room
Brittany Kingery, the "Darling of Vallarta" (and chart-topping, award-winning vocalist extraordinaire) brings her sweet, soaring voice and all-live band to Act II every Monday evening at 7:30 pm. Originally from Washington state, now residing in Vallarta, Brittany is in her THIRD season at ACT II. She is a four-time award-winning vocalist who has followed her dreams. She is a five-time Troprock Music Award winner, winning Female Vocalist of the Year in 2015 and 2016 and 2017, Song of the Year in 2015 and the Horizon Award in 2015. She has released two CDs of her original tropical-inspired music, Edge of the Ocean (2013) and Dream in Blue (2014), and she spends the summer months performing in the United States and Canada.
"Some Enchanted Evening"
A Musical Revue of the composers Rodgers & Hammerstein
January 8, 15, 22 & 29 at 7:00 pm
More so than any composer and lyricist who have written for the stage, the songs of Rodgers & Hammerstein have become an integral part of our everyday lives. We sing them in the shower, we dance to them in ballrooms, we hear them on the radio and in clubs and, yes, in elevators and supermarkets too. We still thrill to see them on the live stage in their respective shows, and we teach their songs to our children. Directed by Alfonso López, Some Enchanted Evening offers a stunning collection of Rodgers & Hammerstein compositions and places four of PV's best singers on The Main Stage: renowned soprano Vanessa Amaro from the national conservatory of music; Alfonso López a classically trained musician/singer with a Masters in music; Hal Bonta, and Kami Desilets, two veteran stage actors with hundreds of Broadway Musicals on their resumes. Set in a special Christmas time stage-play, this magical show will offer you a glorious parade of unforgettable hits from the best musicals of all time. Click Here for more details.
Christine Deaver "Is Like Totally 80's"
January 9, 13, 16, 20, 23, 27 & 30 at 7:30 pm
If Puerto Vallarta had a yearly awards ceremony, Christine Deaver would win "Best Female Cabaret Show," and we would create a special award for her as "The Most Loved!" Rarely does a performer come along that captures the hearts of 100% of their audience, but Christine is the exception! She is sly, devious, clever and wildly funny, but then she glides into a strong heart-felt luscious ballad and shows us another side of her capabilities. This year, Christine brings us an all new show featuring all of our favorite 80's songs.
Paul Fracassi: "Walk Like a Man"
Performing every Wednesday at 7:30 pm
This "Jersey Kid" from Toronto, Canada, managed to create a big fuss up in Canada as a finalist in Canadian Idol. Shortly thereafter, he created a "big fuss" in Puerto Vallarta, too, as we fell in love with this wonderful, new singing sensation! He has become an international star and is much in demand in Mexico, Canada, the U.S., and Europe. Paul's vocal range has been compared to the great crooners of the American songbook, and especially the high vocal range of Frankie Valli. It is no wonder that this artist chose to present the music of The Four Seasons for his show, including Dawn, Rag Doll, Can't Take My Eyes Off of You, and Walk Like a Man. Paul handles the Frankie Valli songs as if Frankie Valli himself was on stage singing them in his early years on The Ed Sullivan Show!
"BIG AND LOUD"
Starring drag diva, Mama Tits
Every Monday - 9:30 pm & Wednesday at 5:00
In this all-new drag show, "BIG & LOUD," Mama Tits is guaranteed to take you on a wild journey, complete with incredible live singing, hilarious stories, and side-splitting comedy! This year, Mama Tits has turned things up a notch, too, by adding live accompaniment! Mama Tits is one of the top drag divas of Puerto Vallarta and Seattle, with sold-out shows almost every night. Known for her buttery smooth voice and soulful blues sound, her shows have become a notorious "destination," forever changing drag cabaret entertainment!
"Motown and Beyond"
Starring Diana Villamonte
A Musical Tribute to the Great Ladies of Motown and Beyond
Every Thursday evening at 5:00 pm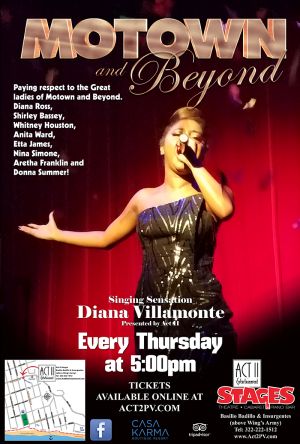 The amazing Diana Villamonte presents "Motown and Beyond!" a musical tribute to the great ladies of Motown and Beyond, such as Diana Ross, Shirley Bassey, Whitney Houston, Anita Ward, Etta James, Nina Simone, Aretha Franklin and Donna Summer! This young lady is one of the most talented people that has ever crossed our stage! After a sold-out preview of her show this past summer, she was described as "powerful, charming, beautiful, stunning, polished, mesmerizing and stunning." She blew the audience away with her huge vocals and passionate interpretations, and she grabbed the audience and never let go. Diana is a reality TV star/musician in Central America, and she already has a huge fan base here in Puerto Vallarta. We are beyond excited that she has agreed to perform here at Act II, so we invite you to get your tickets now for one of her shows. We promise you, you will never forget her!
"Sutton Lee Seymour"
Starring Sutton Lee Seymour!
Every Tuesday & Saturday at 9:30
Our beloved Sutton Lee Seymour returns for her third highly-anticipated season in Puerto Vallarta! As one of the most popular, SOLD-OUT shows at Act II, this one-woman, comedic dynamo performs everything from Disney, Broadway and Hollywood spoofs, to impersonating celebrities like Carol Channing, Joan Rivers, Liza Minnelli, Barbra Streisand, and many more. Known as the "Robin Williams of Drag," (TripAdvisor) and "...one of the best and brightest drag talents in New York City" (Huffington Post), Sutton Lee is known for taking full-length musicals and movies and condensing them down to a 5-minute romp of hilarity! Full of SHE-nanigans, this show is a must see!
Act II is very excited about the 2017-2018 season! Featuring 45 different shows, many of Vallarta's favorites have already returned to our stages, but there's also some hot, new surprises in store! For a complete description of all our upcoming shows, go to act2pv.com.

Tickets to all shows can be purchased online at actiientertainment.com, at the box office, which opens at 10 am on show days, or at the 2nd Box Office location, across the street from Garbos on Pulpito Street in the Romantic Zone.
The Act II Entertainment STAGES complex is located on the corner of Insurgentes and Basilio Badillo on the South side of Puerto Vallarta. For more information, call (322) 222-1512, or follow Act II on Facebook. Click HERE to see what else is playing at Act II STAGES.