Puerto Vallarta, Jalisco, Mexico - Saludos to all our family of friends around the world! This is the time of year our friends in the north especially like hearing from us! The weather is amazing. All the joints are jumpin'. And it's hard not to find smiles on every face you pass.
We apologize in advance to those who do not find yourselves in Puerto Vallarta this week, or worse, those who just left! We're about to make your mouth water.
More than a few of our family of friends who are here in Vallarta have asked about our Duck Carnitas special this season. It's here!
Our version of a Mexican classic has made this standout, must-order dish one of The Cocina de Amor's most popular winter specials for the last nine seasons.
This perfectly seasoned crispy leg and sliced breast of juicy duck in a red plum and port wine sauce comes with crispy strips of corn tortillas topped with cheese & sweet cream and sides of sweet quince cubes, ate de membrillo, & avocado salad.
Click HERE to make your reservations while quantities last!
See you soon in Tu Casa en Vallarta.
Un abrazo,
Julie & José Alfredo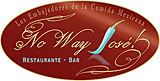 No Way José! welcomes you to La Zona Romantica on the south side of Vallarta at 5 de Febrero 260, just over the Vallarta street bridge on your left heading south from the Malecón. Open Daily from 4:00 pm to 11:00 pm. Reservations are recommended and available by calling (322) 223-2853 or online at NoWayJoseMx.com. For more information, visit our website, or join us on Facebook for real-time updates and special offers.

Click HERE to learn more about No Way José!