Puerto Vallarta, Mexico - Since pre-Columbian times, Mexicans have regarded friendship very highly, considering it a precious gift of life. In anticipation of Valentine's Day, our friends at Inside Mexico recently shared the Aztec poem, La amistad es lluvia de flores preciosas. ("Friendship is like a shower of precious flowers.")
No Way José! appreciates the Mexican tradition of honoring El Dia del Amor y la Amistad (The Day of Love and Friendship) on February 14, and we extend our loving friendship to all our family of friends, wherever in the world you may find yourself on that day.
For those of us in Puerto Vallarta, one of the most romantic terraces in La Zona Romantica invites you to join Piel Canela on one of the most romantic night of the year at No Way José! Restaurant/Bar. Enjoy a special 4-course menu for only $839 pesos which includes:
Your Choice of Soup:
• Cream of Passion - Velvety smooth cream of oyster soup, the original aphrodisiac, served in a temptation red apple.
• Farmer's Vegetable Soup - In-season vegetables in a chicken broth
Salad:
Sweet Nothings - Watermelon, fresh spinach and watercress salad with Parmesan cheese slices and a cilantro and basil vinaigrette with a fried Gouda cheese nugget
Your Choice of Main Course:
• My True Love - Thick honey-glazed pork chop served with caramelized vegetables
• Under the Sea - Mahi Mahi provencal filet and jumbo shrimp in a mussel sauce, served with cream-cheese filled eggplant
• My Love - Beef filet and grilled octopus bathed in a delicate cilantro sauce, served with agave-glazed mixed vegetables and garlic mashed potatoes
Your Choice of Dessert:
• Cupid's Arrow - Mixed berries marinated in Chambord raspberry liqueur and bathed in mint-scented white chocolate sauce
• Chocolate Ecstasy - The No Way José! favorite chocolate mousse cake
Add a wine pairing for each of your four courses for a complete dining experience, for an additional $350 pesos.
To add even more romance to your Valentine's Day dinner, the popular Piel Canela Trio will be playing Latin fusion and the best Gipsy Kings covers you have ever heard from 8:00 to 10:00 pm.
Treat your loved one to great food, great cocktails, great live musical entertainment, and one of the most charming service teams in Puerto Vallarta this Valentine's Day. The Terrace fills up quickly for special events, so reserve your table today by calling 223-2853 or online at NoWayJoseMx.com.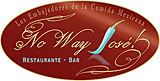 No Way José! welcomes you to La Zona Romantica on the south side of Vallarta at 5 de Febrero 260, just over the Vallarta street bridge on your left heading south from the Malecón. Open Daily from 4:00 pm to 11:00 pm. Reservations are recommended and available by calling (322) 223-2853 or online at NoWayJoseMx.com. For more information, visit our website, or join us on Facebook for real-time updates and special offers.

Click HERE to learn more about No Way José!