Puerto Vallarta, Mexico - The Directorate of Citizen Safety and Municipal Roads has prepared a series of actions to ensure the safety of Vallartenses and visitors during the Semana Santa and Pascua holiday period. Police presence has been strengthened throughout the municipality to safeguard both citizens and tourists, and to prevent crimes and contingencies that may occur due to the number of people that will gather together to celebrate at religious, tourist, social and sports centers from March 26 to April 8, 2018.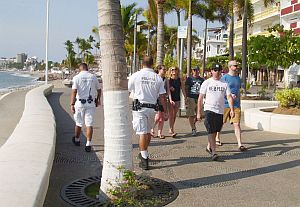 A special surveillance and security operation has been put into force in popular beach areas, as well as shopping, cultural and religious centers, to ensure a safe environment and provide tranquility during this holiday period. Within the police strategy, two 12-hour shifts have been implemented with an operational force of more than 200 officers. Fully staffed and equipped vehicles will patrol the main accesses and avenues of the city, in order to prevent and attend to any risk situation in a timely and efficient way.
From March 29 to April 1, public security personnel will focus on surveillance in religious centers where activities such as the traditional "Viacrucis" will take place on March 30, including the parish of Our Lady of Guadalupe, the San Miguel Arcángel parish, the temple of the Virgin of Talpa, parish of Our Lady of the Refuge, parish of the Santa Cruz, parish of San Rafael, temple of the Sacred Heart of Jesus and the temple of the Divine Providence.
All of these efforts will be in coordination with the Municipal Civil Protection and Fire Department, who will immediately attend to any contingency that may arise, in addition to providing guidance to visitors in the different areas of the city.
With regard to Roads, there will be enough staff to attend the streets and avenues, with special attention to the exit and entrance of the federal highway 200 (north entrance), in coordination with the PFP. In addition, there will be a unit that will provide road assistance and assistance to drivers who require support.
On Thursday, Friday and Holy Saturday, when it is estimated that there will be a greater flow of visitors in the downtown area, partial closure and circulation changes are foreseen.
Puerto Vallarta Municipal Government press release translated and edited by Ricardo Acerco for BanderasNews.com.