Puerto Vallarta, Mexico - By popular demand, TED Talk Tuesdays will continue to bring people who love learning together every other Tuesday from 10 am to 12 noon at The Boutique Dinner Theatre. Each week, an "interesting person" living in Puerto Vallarta will share his or her expertise and insights, on a variety of socially relevant topics. Dynamic speakers will continue to be added as audience support continues. Here are the next two:
April 17, 2018 Roger Sweaney - Medical crisis survivor, motivational speaker, life coach
"Observations from a 'Medical Miracle' - What I learned surviving cancer, epilepsy, and a stroke"
Roger's life story is both death-defying and inspirational. He has been a community activist and accountant, whose career has taken him through Seattle, San Francisco, and Milwaukee. With a seemingly textbook successful life before him, Roger was taken down at a young age by a trio of medical crises most people don't survive. He's made it to age 50, and now lives full-time in Puerto Vallarta, appreciating every moment. His warm personality, and never-quit philosophy, offer profound revelations in the lives of people who meet him. To learn more, visit rogersinspiration.com.
May 1, 2018 T.J. Hartung - Orchid expert, author, speaker
"Vanilla: The Gift from Mexico That Flavors the World"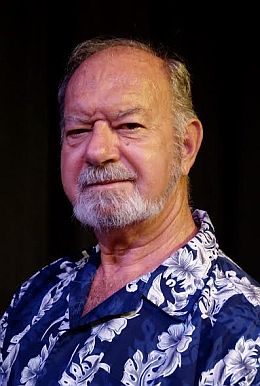 Orchid expert, T.J. Hartung
T.J.'s interest in plants began when he was a young boy. It blossomed - so to speak - when he began working in the hotel industry. His fascination with orchids peaked after settling in Mexico 24 years ago, when he started collecting, identifying, and researching them.
In his talk, T.J. will: expose a lie we were all told in school; reveal several interesting uses for vanilla, not related to cooking; identify the 12-year-old boy who broke up a monopoly in place for more than 300 years; and explain why we call them "chili-peppers," and who first called them that.
T.J. will toss in a few other interesting facts, as well as some useful household hints.
He has given talks on Mexican orchids to orchid societies in New England, East-central Canada, and the U.K. He has written two books on orchids - one on vanilla, and the other on fragrant orchids - as well articles for Orchids Magazine, the official publication of the American Orchid Society.
T.J. serves on the board of directors of the Vallarta Botanical Gardens, and is webmaster for the International Friendship Club of PV. He has adapted and directed several theatrical productions for The Boutique Theatre, including The Anthology of Comedy and The Rose of Two Scents, the latter by the famous Mexican playwright, Emilio Carballido.
Each talk concludes with a half-hour interactive discussion, in which audience members may make comments and ask questions of the speaker. Tickets cost $250 pesos each and can be purchased online at btpv.org, or at the door.
Audience members are encouraged to remain after the presentations, to cultivate friendships and continue discussions, during a no-host lunch at Nacho Daddy. The restaurant's "Mex-Tex" menu includes such favorites as Tortilla Soup, Steak Nachos, and Chicken Fajitas - all reasonably priced.

The Boutique Theater is located upstairs at Nacho Daddy Mexico, the premier sports bar and restaurant in Puerto Vallarta. Open daily from 11 am to 12 am for lunch, dinner, live music (with no cover charge!) and lots of fun, this popular south side hangout is located at Basilio Badillo #287, only two blocks off the beach in the heart of the Romantic Zone. Credit cards accepted. For more information, visit NachoDaddyPV.com or become a fan on their Facebook Page for promotions, daily specials and more.

Click HERE to learn more about Nacho Daddy Mexico Restaurant & Sports Bar.