Puerto Vallarta, Mexico - One of No Way José!'s favorite fiestas of the year welcomes the hottest, newest guitar duo on the Vallarta music scene. Welcome Zoe & Leon from 8:00 to 10:00 pm on Saturday, May 19 on the No Way José! Terrace to celebrate José Alfredo's birthday.
Vallarta is no stranger to Eduardo Leon, one of the best guitarists to grace the stage of some of the most popular venues throughout the Bay of Banderas. Joining his musical talents with the singer, composer, guitarist Zoe Wood, this duo creates an acoustical guitar experience you will be putting on your "can't miss" list. No Way José! welcomes Zoe & Leon to the No Way José! family of friends!
No Way José!, one of the Zona Romantica's favorite award-winning Mexican contemporary restaurants, rolls out another creatively delicious Restaurant Week menu as the culinary star of the evening. From Bone Marrow Tacos to the Mexican delicacy Mixiote, you will have new menu items to add to the classic NWJ! favorites of Chiles en Nogada and Pollo Xochimilco. If you haven't tried one of the few dishes in Vallarta where you can experience a delicate Huitlachoche (corn truffle) sauce, ask your server about the Pollo Xochimilco the next time you're in Tu Casa en Vallarta.
The legendary No Way José! fiestas generate such great energy that we channel all that love into giving back to the Vallarta community. Cheryl's Shoebox, a community volunteer organization, dedicates their efforts to increase the quality of education in disadvantages schools throughout the Banderas Bay area by providing families with new shoes and school materials for children, as well as supplies for teachers
So please bring a pair (or two!) of new children's shoes for ages 6-12, socks, school supplies such as notebooks, pencils, and markers to the party. It feels so great to have a great time and help others at the same time!
Please join us on Saturday, May 19 to eat, drink, laugh, sing, dance and be happy! Space is limited and the Terrace fills up fast, so visit NoWayJoseMx.com, or call (322) 223-2853 to reserve your table.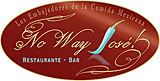 No Way José! welcomes you to La Zona Romantica on the south side of Vallarta at 5 de Febrero 260, just over the Vallarta street bridge on your left heading south from the Malecón. Open Tues-Sun from 4:00 pm to 11:00 pm. Reservations are recommended and available by calling (322) 223-2853 or online at NoWayJoseMx.com. For more information, visit our website, or join us on Facebook for real-time updates and special offers.

Click HERE to learn more about No Way José!