Puerto Vallarta, Mexico - You asked for it and we heard you. No Way José! offers our summer value menu in A/C comfort. The Zona Romantica's favorite award-winning Mexican contemporary restaurant opens its downstairs air-conditioned bar for dinner service starting Wednesday, June 13.
From Tuesday through Sunday (closed Mondays), enjoy a summer season value menu with all of your NWJ! favorites, including our tableside-prepared Caesar Salad and our famous Chiles en Nogada.
In addition to great food and friends, there's always something fun going on at Tu Casa en Vallarta. With a daily happy hour from 4-6 pm featuring 2x1 domestic cocktails, you can beat the heat in A/C and try the weekly cocktail and dinner specials especially suited for summer in Puerto Vallarta.
Downstairs seating is limited, so make your reservations today by calling (322) 223-2853, or online at NoWayJoseMx.com.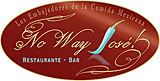 No Way José! is located on the south side of downtown at 5 de Febrero 260, just over the Vallarta street bridge on your left heading south from the Malecón. Open Tuesday-Sunday from 4:00 pm to 11:00 pm. Reservations are recommended and available by calling (322) 223-2853 or online at NoWayJoseMx.com. For more information, visit NoWayJoseMx.com, or join us on Facebook for real-time updates and special offers.

Click HERE to learn more about No Way José!