Puerto Vallarta, Mexico - No Way José! opens for Season 10 on Tuesday, October 16, 2018, and welcomes you back to Tu Casa en Vallarta for another year of fabulous food, friends and fun in the Zona Romantica's favorite Mexican contemporary restaurant.
La Cocina de Amor and one of the most charming service teams in Vallarta are setting your table with all of your favorites, like Chiles en Nogada, Pollo Xochimilco, Camarones Santana, Dorada Carlotta and our famous Sexy Coffees, just a few of the award-winning dishes that ranked No Way José! as "The Best Traditional Mexican Restaurant in Vallarta" in the Tribune's 2018 Best of the Bay of Banderas survey.
Downstairs, you can enjoy NWJ!'s delicious Mexican contemporary cuisine in the air-conditioned comfort and casual bar setting of the Cantina, or you can dine under the Vallarta sky on the romantic upstairs terrace. Whichever you choose, you'll enjoy the delicious Mexican specialities, creative cocktails, friends and fun that have made No Way José! Tu Casa en Vallarta.
Make plans now to join us on Tuesday, October 16 from 4-11 pm as we kick off another great year of the best in Mexican food, music and culture. If you're busy on Tuesday night, a special musical guest will entertain diners on the Terrace on Saturday, October 20, so make your reservations today!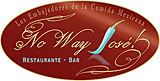 No Way José! is located on the south side of downtown at 5 de Febrero 260, just over the Vallarta street bridge on your left heading south from the Malecón. Open Tuesday-Sunday from 4:00 pm to 11:00 pm. Reservations are recommended and available by calling (322) 223-2853 or online at NoWayJoseMx.com. For more information, visit NoWayJoseMx.com, or join us on Facebook for real-time updates and special offers.

Click HERE to learn more about No Way José!