Puerto Vallarta, Jalisco, Mexico - Enjoy a magical evening at No Way José! in the company of old friends, new friends and your loved ones in Spirit. Witness amazing connections as Kennedy Morgan connects the souls of the departed to their loved ones in this physical world.
Kennedy Morgan is a gifted spirit medium from West Hollywood, California. The journey to accepting his ability to connect the souls of the departed with their loved ones in this physical world has been one of true discovery. At a young age, Kennedy felt a spiritual connection to something greater than himself. He recalls countless experiences where he just knew things about people, places, and future events.
At the time, he just shrugged it off as a strong sense of intuition and nothing more. Gradually, the moments of intuition became more like a sense of "knowing". Kennedy describes it similar to recalling a memory that you have never experienced.
The sense of knowing would eventually be accompanied by voices, flashes of images, and feelings. In hindsight, these experiences were just indicators of what was to later become his calling. Kennedy soon learned that the impressions he was receiving were all the tools that spirit uses to communicate with mediums. The moment he realized he was a medium changed his life forever. Kennedy never would have thought that he would be the conduit to bring healing, comfort, guidance, and hope to those in this physical world through the messages that Spirit would have him convey.
Kennedy's confident, yet humble nature, deep connection with his own spirituality, and what he whimsically calls his "youthful old soul" perspective, makes him a great messenger for the Other Side. He never takes his unique gift for granted and is always amazed by the powerful messages that Spirit communicates. Kennedy shares, "It's never about being the messenger, it's about the healing that take place when the message is given."
Join us on the No Way José! Terrace on Wednesday, December 19 at 5:00 pm for a cocktail presentation and meet Kennedy Morgan. $400 pesos per person gives you a complimentary cocktail, snack, and a chance to witness or make an amazing connection.
100% of Kennedy's proceeds go directly to Cheryl's Shoe Box, one of the charitable organizations that No Way José! supports, which dedicates its efforts to increasing the quality of education in disadvantaged schools throughout the Banderas Bay area by providing local families with school shoes and school materials as well as educational supplies to teachers.
Don't wait to make your reservation at NoWayJoseMx.com. The Terrace is going to fill up fast for this one!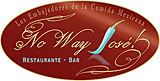 No Way José! is located on the south side of downtown at 5 de Febrero 260, just over the Vallarta street bridge on your left heading south from the Malecón. Open Tuesday-Sunday from 4:00 pm to 11:00 pm. Reservations are recommended and available by calling (322) 223-2853 or online at NoWayJoseMx.com. For more information, visit NoWayJoseMx.com, or join us on Facebook for real-time updates and special offers.

Click HERE to learn more about No Way José!