Puerto Vallarta, Mexico - Our favorite fiesta of the year celebrates José Alfredo's cumpleaños in the traditional No Way José! style - with amazing food, friends and fun! We invite you to join in the fiesta and enjoy our Restaurant Week Menu, while supporting Cheryl's Shoebox, on Sunday, May 19.
"My birthday and Restaurant Week are two of the reasons this party draws an enthusiastic crowd ready to party," shares José Alfredo. "Donating to Cheryl's ShoeBox puts the cherry on the cake for us at No Way José! Not only do we remember Cheryl fondly, we enjoy furthering her legacy and letting people know how they can reach out and help individual children in the under-served areas of the Bay of Banderas."
"Not only will we enjoy our very own Alejandro Peña. Tenor," adds Julie, "We will have mariachi, and other musical guests surprising us throughout the night. This evening promises to be one of the best ways to say "Feliz Cumple" to one of the hardest working men in Vallarta!"
In lieu of gifts for the birthday boy, we ask that you donate to Cheryl's Shoe Box. Please bring a new pair of girls' or boys' shoes to donate or bring some extra pesos to throw into the donation box.
Cheryl's Shoe Box dedicates their efforts to increase the quality of education in disadvantaged schools throughout the Banderas Bay region by providing families with school shoes and school materials as well as educational supplies to teachers.
Please join us on Sunday, May 19 to eat, drink, laugh, sing, dance and be happy! Space is limited, and the Terrace always fills up fast for this party, which starts at 7:30 pm, so visit NoWayJoseMx.com, or call (322) 223-2853 to reserve your table today!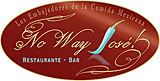 No Way José! is located on the south side of downtown at 5 de Febrero 260, just over the Vallarta street bridge on your left heading south from the Malecón. Open Tuesday-Sunday from 5:00 pm to 11:00 pm. Reservations are recommended and available by calling (322) 223-2853 or online at NoWayJoseMx.com. For more information, visit NoWayJoseMx.com, or join us on Facebook for real-time updates and special offers.

Click HERE to learn more about No Way José!